The 37-year-old yoga instructor takes to her social media account to lash out at trolls and tabloid media who create stories about her actor husband following the incident.
AceShowbiz –Alec Baldwin's wife urged online users to stop trolling him in the wake of "Rust" shooting. When coming to the actor's defense, Hilaria Baldwin claimed that her husband is suffering from PTSD.
The 37-year-old made the revelation in a series of videos shared on Instagram Story. "Now, my husband is suffering from PTSD right now. It's something that's not just from what happened recently, but he's been suffering from this for a very, very, very long time," she stated, adding that the media and "trolls" want to "upset him."
Hilaria previously addressed the dark side of being famous. "When you get negative attention whether it's from trolls or tabloid media… people say to you, 'Oh just ignore it, that's what they want. If you give them attention this is literally what they want,' " she explained. "The issue is, if you don't say anything, you're giving them the space to speak for you."
"Your silence sometimes speaks enough to them to be able to commandeer your story," the yoga instructor continued. "It's tricky because you don't want to be constantly responding to every single crazy, crazy thing that they say."
"I'm at a place where I'm tired of not talking, and I want to get to a place where I can use my voice to show you that this is not just a famous thing," Hilaria further elaborated. "Everybody has trolls. Everybody has people who want to tell you whether you're good or bad or what you think or what you feel."
The mother of six concluded her lengthy statement by sharing a reminder to her followers. "You need to reclaim your voice, and you're allowed to speak. Have your boundaries, know when to walk away, but you're allowed to speak your truth because 2022 [is the] year of us speaking again," she said.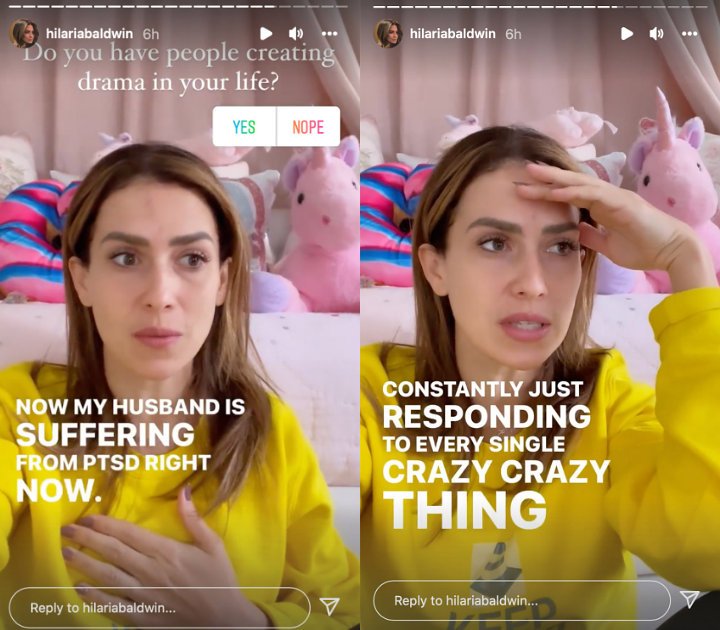 Hilaria Baldwin claimed her husband Alec Baldwin is suffering from PTSD.
Alec accidentally fired a prop gun while filming "Rust" at the Bonanza Creek Ranch in Santa Fe, New Mexico in October. Director of photography Halyna Hutchins died from the ordeal while movie director Joel Souza was injured. Alec is now being sued over the deadly gun incident.
Source: Read Full Article