Kelly Ripa's Daughter, Lola Consuelos, Made a Very Risqué Alteration to Her Prom Dress
Oh hey, hello there! In case you totally forgot that teeny mini Kelly Ripa had THREE (3) babies with Mark Consuelos, I'm thankfully here to remind you that one of them recently hit a milestone before heading to college. Kelly's daughter, Lola Consuelos, somehow grew all the way up while we weren't looking and is out here serving hair, body, and face at—you guessed it!—her senior prom.
Lola stunned in a form-fitting, emerald green satin gown that had her boobies front and center courtesy of a deep v-cut. She looked absolutely fantastic! But as it turned out, the dress that Lola ended up wearing to prom was not approved by her mother. Who knew Lola was so…relatable?
During an appearance on the Jerry O Show yesterday, Kelly revealed that Lola had changes made to her prom dress behind her back. "That's the prom dress that we had made and she had [it] altered behind our back," Kelly said after being shown the picture of her and Lola posing at home before the event. "Took me 20 hours to get that photo. I was like, 'Please just give mommy one. Just one photo!" According to Kelly, said alterations are the reason "why the girls are fully on display."
https://www.instagram.com/p/ByYWPlnjs2p/
It only took 20 hours, but we finally got two approved prom photos. #prom 2019 💚💚 love you @tar3kfahmy and @theyoungestyung
A post shared by Kelly Ripa (@kellyripa) on
Despite the dress deception, Kelly shouldn't be alllll that hard on Lola. Literally just 10 days later on Father's Day—which was also Lola's 18th birthday—Lola walked in on her parents having sex, which is honestly seems way more than an adequate punishment. "She shuts the door and you hear, 'You just ruined my birthday! And my life!'" Ripa recalled. So uh, I guess it's safe to say that Kelly and Lola are even now…right?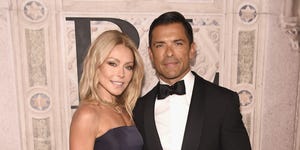 Source: Read Full Article