The Los Angeles Lakers star makes use of his Twitter account to show his excitement over Sarver's decision to sell Phoenix Suns and WNBA's Phoenix Mercury.
AceShowbiz –LeBron James has a huge reaction to the news that Robert Sarver is moving to sell the Phoenix Suns and Mercury. The NBA star, who previously publicly criticized Sarver, made use of his Twitter account to show his excitement over the decision.
On Tuesday, September 20, James responded to a tweet which read, "Phoenix Suns and Mercury owner Robert Sarver announces that he has started the process to sell both franchises." Quote-retweeting the post, the Los Angeles Lakers player wrote, "I'm so proud to be a part of a league committed to progress!"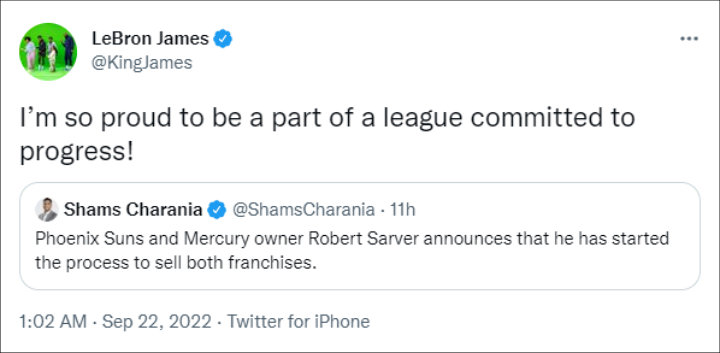 LeBron James was excited over Robert Sarver's decision to sell Suns and Mercury.
Earlier this month, James called out NBA for giving what he deemed to be a lenient punishment to Sarver. The league gave Sarver one-year suspension and $10 million fine after a 10-month NBA investigation found he violated common workplace standards.
Weighing in on the matter, James tweeted on September 14, "Read through the Robert stories a few times now." He continued, "I gotta be honest…Our league definitely got this wrong. I don't need to explain why. Y'all read the stories and decide for yourself."
"I said it before and I'm gonna say it again, there is no place in this league for that kind of behavior. I love this league and I deeply respect our leadership. But this isn't right," he added, "There is no place for misogyny, sexism, and racism in any work place. Don't matter if you own the team or play for the team. We hold our league up as an example of our values and this aint it."
Echoing the sentiment was fellow basketball player Chris Paul. The Phoenix Suns star wrote in a series of tweets that he was "horrified and disappointed" by the report. "This conduct especially towards women is unacceptable and must never be repeated," Paul penned. "I am of the view that the sanctions fell short in truly addressing what we can all agree was atrocious behavior. My heart goes out to all of the people that were affected."
Sarver was found violating common workplace standards with the misconduct. According to the NBA's investigation, his misconduct included "the use of racially insensitive language; unequal treatment of female employees; sex-related statements and conduct; and harsh treatment of employees that on occasion constituted bullying."
An independent investigation conducted by Wachtell, Lipton, Rosen & Katz law firm found that the owner of the Phoenix Suns and WNBA's Phoenix Mercury used the N-word on at least five occasions, most recently in 2017, while recounting what someone else said. He allegedly told a pregnant employee she would be unable to do her job upon becoming a mother in addition to making comments about women crying too much.
He also was said to be "engaged in instances of inequitable conduct toward female employees, made many sex-related comments in the workplace, made inappropriate comments about the physical appearance of female employees and other women, and on several occasions, engaged in inappropriate physical conduct toward male employees."
Sarver took "full responsibility" for his actions. He said in a statement, "Good leadership requires accountability. For the Suns and Mercury organizations, that begins with me. While I disagree with some of the particulars of the NBA's report, I would like to apologize for my words and actions that offended our employees. I take full responsibility for what I have done. I am sorry for causing this pain, and these errors in judgment are not consistent with my personal philosophy or my values."
Source: Read Full Article