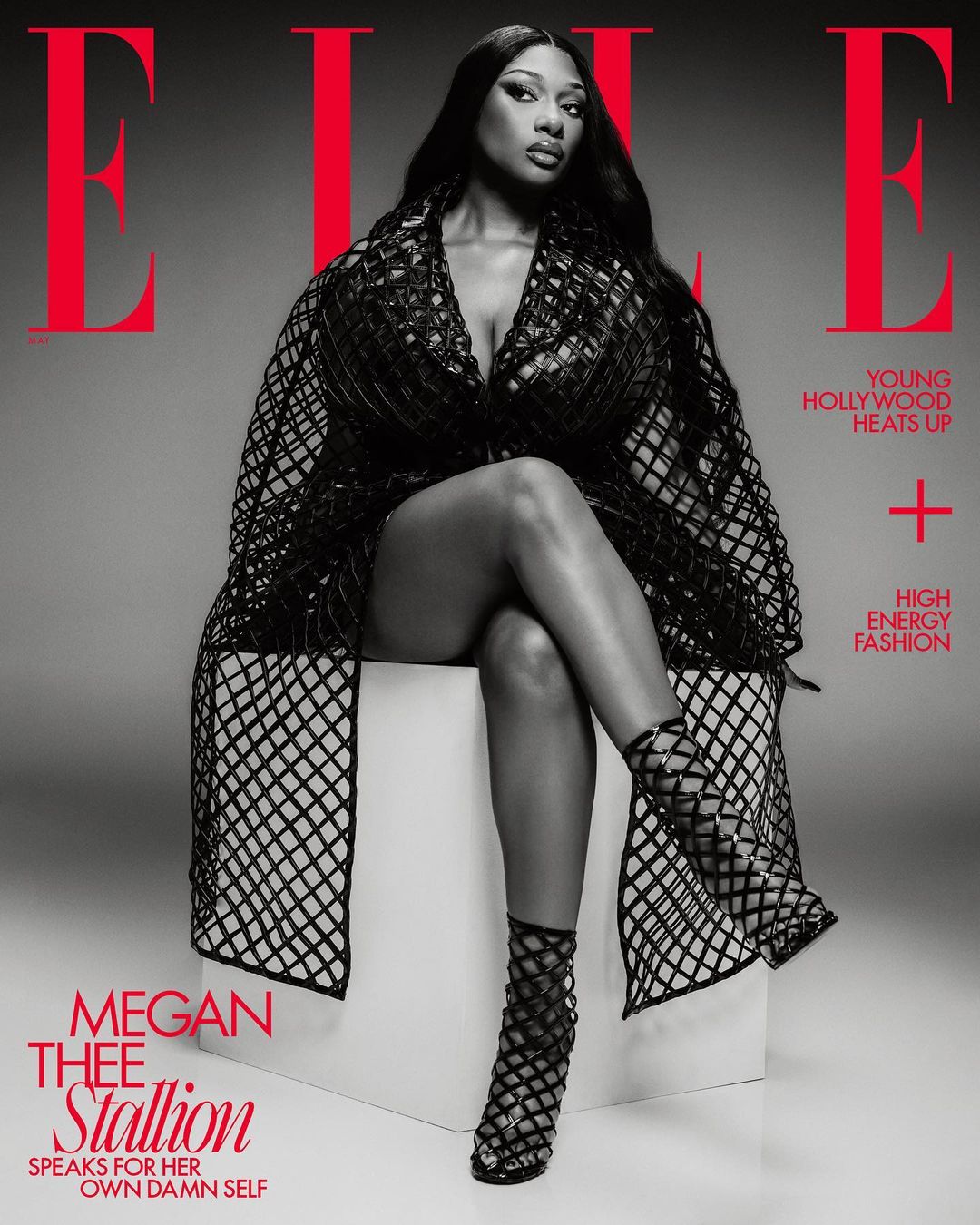 Just before Christmas 2022, Tory Lanez was convicted of three felonies related to the 2020 shooting of Megan Thee Stallion. Tory, Megan and a few friends were driving around LA and Tory shot Megan's feet. What happened next was a case study of how men with any kind of fame or money are protected and coddled at the expense of their female victims. The fact that the victim was a Black woman made it "easy" for the worst douchebags in the world to throw their support behind Lanez. Megan has been through a huge ordeal in the past three years, and she's only now really coming out of it. Megan covers the latest issue of Elle, and the piece is written as a first-person essay, but Elle specifies that Megan spoke this words and they were transcribed. Some highlights:
The survivor: "I don't want to call myself a victim. As I reflect on the past three years, I view myself as a survivor, because I have truly survived the unimaginable. Not only did I survive being shot by someone I trusted and considered a close friend, but I overcame the public humiliation of having my name and reputation dragged through the mud by that individual for the entire world to see. For years, my attacker laughed and joked about my trauma. For years, my attacker peddled false narratives about what happened on the night of July 12, 2020. For years, my attacker tried to leverage social media to take away my power. Imagine how it feels to be called a liar every day? Especially from a person who was once part of your inner circle.

She knows just how thoroughly the music industry supported Lanez: "I could have let the adversity break me, but I persevered, even as people treated my trauma like a running joke. First, there were conspiracy theories that I was never shot. Then came the false narratives that my former best friend shot me. Even some of my peers in the music industry piled on with memes, jokes, and sneak disses, and completely ignored the fact that I could have lost my life. Instead of condemning any form of violence against a woman, these individuals tried to justify my attacker's actions.

She never realized that people wouldn't believe her: "It never crossed my mind that people wouldn't believe me. Still, I knew the truth and the indisputable facts would prevail. I had worked way too hard to reach this point in my career to let taunts deter me. When the guilty verdict came on Dec. 23, 2022, it was more than just vindication for me, it was a victory for every woman who has ever been shamed, dismissed, and blamed for a violent crime committed against them. But my heart hurts for all the women around the world who are suffering in silence, especially if you're a Black woman who doesn't appear as if she needs help. So many times, people looked at me and thought, "You look strong. You're outspoken. You're tall. You don't look like somebody who needs to be saved." They assumed that, per preconceived stigmas, "I didn't fit the profile of a victim," and that I didn't need support or protection.

Exactly this: "Time after time, women are bullied with backlash for speaking out against their attackers, especially when they're accusing someone who is famous and wealthy. They're often accused of lying or attempting to make money from their trauma. From firsthand experience, I know why a lot of women don't come forward. Any support and empathy that I received was drowned out by overwhelming doubt and criticism from so many others.

Healing: "These last few months, I've been healing after being in such a dark place. The physical and mental scars from this entire ordeal will always sting, but I'm taking the appropriate steps to resume my life. I've spent the last few months off social media and taking time off for myself, spending time with my dogs, hanging out with my manager, Farris, and doing a lot of praying.

The resurrection: "I was once told that you can't have crucifixion without resurrection, and that statement resonated so deeply with me. This is a rebirth of a happier and healthier me. I'm a survivor and I have—and will continue—to embrace the highs and lows of my journey. I'm excited to get back into music, because I have been so transformed. I'm playing around with new songs and new sounds that I can't wait for everyone to hear.
[From Elle]
Megan also personally thanks her "Hotties" (her fans) for supporting her and sending her messages and writing positive stuff about her and to her. You can really tell that support meant the world to her, just as it still stings that her music industry peers didn't take her side. It was so awful what she went through at every level, and the fact that Tory was gleefully lying about her and smearing her for years didn't help either. He's such a piece of sh-t, my God. So are all of his supporters and all of the people who lied about her. I hope Megan is supported, protected and loved by everyone she chooses to have around her. I hate that she had to find out how many people in her life didn't have her back.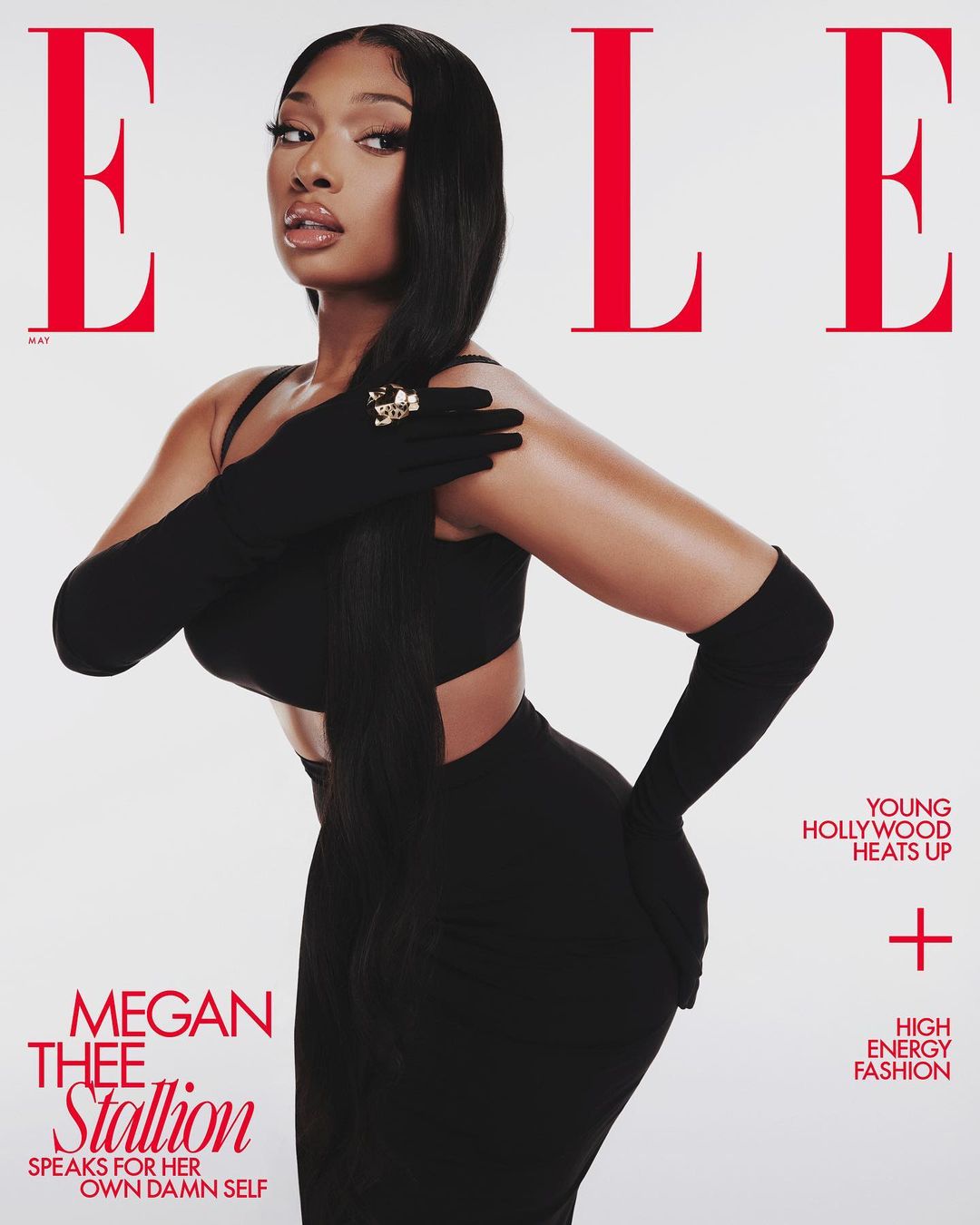 Covers courtesy of Elle.
Source: Read Full Article