A new film about Prince Harry and Meghan Markle's life called "Harry & Meghan: Escaping the Palace" is set to premiere on Lifetime on September 6. The TV movie "explores what really happened inside the palace that drove Harry (Jordan Dean) and Meghan (Sydney Morton) to leave everything behind in order to make a future for themselves and their son Archie," according to a synopsis by Lifetime. It promises to dive into some of the claims made by Harry and Meghan during their sit-down interview with Oprah Winfrey, including Meghan's struggle with her mental health and "Harry's fear that history would repeat itself."
Harry and Meghan's life together has been one of the most prominent news stories of the past several of years. Since their decision to step down as senior members of the royal family and move out of the UK, there seems to be even more curiosity surrounding them. Of course, their interview with Oprah didn't help quell that interest; if anything, it caused more questions to arise. Lifetime's new film will attempt to answer some of those questions, and while the film is undoubtedly going to prove popular amongst royal watchers and anyone who has been following Harry and Meghan's story, it's already causing quite a stir. Keep reading to find out why.
The opening scene of 'Escaping the Palace' is disturbing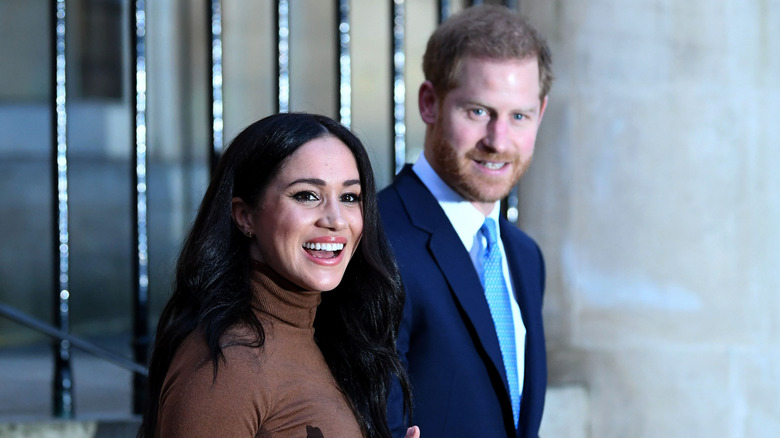 Perhaps in an effort to really pack a punch, the opening scene of Lifetime's "Harry & Meghan: Escaping the Palace" has some fans very upset. According to the Daily Mail, the film opens with a car crash scene, calling back to the 1997 accident that caused Princess Diana's death. The actor who portrays Meghan Markle is seen lying underneath an overturned car, struggling. The scene depicts a concerned Prince Harry, played by actor Jordan Dean, pushing through the crowd to get to his wife, who is "seriously injured" and "pleads with him to help her." So, does Meghan die in "Escaping the Palace"? Not quite. Turns out, Harry was just having a nightmare. 
The scene is being called "tasteless" and "abhorrent" by fans on social media, according to the Daily Mail. The graphic scene is just too much for many, and with the 24th anniversary of Diana's death just passing on August 31, the timing of the scene is tough to watch. Of course, the nightmare speaks to Harry's worry that his wife would end up just like his mother, but many can't help but wonder if there was another way to go about it.
Source: Read Full Article