Scarlett Johansson and Saturday Night Live's Colin Jost got engaged this past May, but this couple is not one to parade around New York flashing ScarJo's new ring or fill up their Instagram feeds with endless PDA. In the grand scheme of celeb couples, these two tend to keep things low key—but Scarlett's recent reveal of her engagement ring is evidence that when it comes to jewelry shopping and displays of affection, Jost is nothing of the sort.
The bride-to-be made an appearance at Comic-Con this past weekend for a Marvel panel after her roles in The Avengers, Captain America, and Iron Man films to announce a Black Widow film was in the works for 2020, co-starring Rachel Weisz. The tease of the next Marvel movie paled in comparison to Johansson's other big reveal: an 11-carat diamond engagement ring—which experts estimate could be worth approximately $400,000.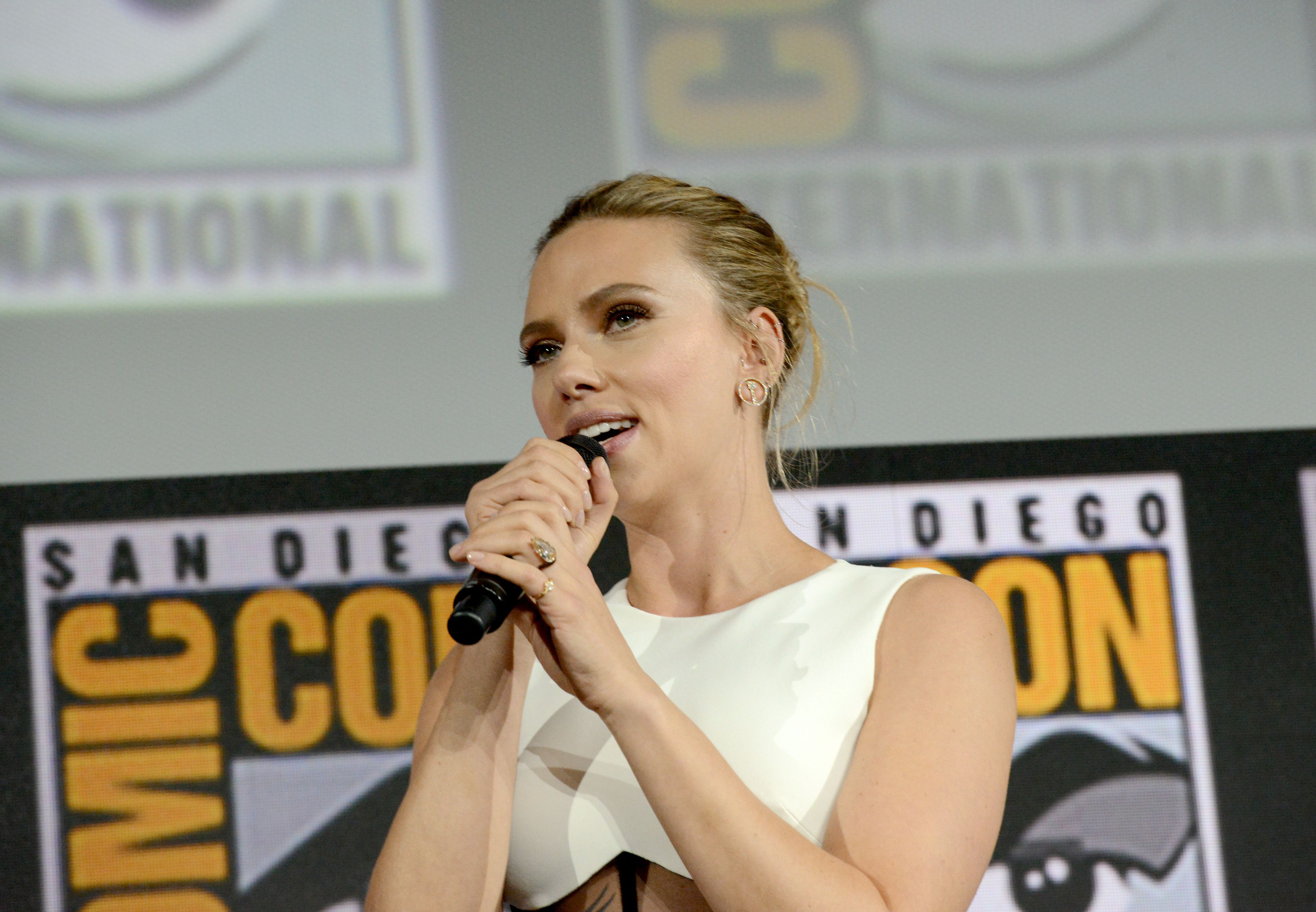 While celebrity engagements this past year have had us oogling Meghan Markle's three-stone stunner from Botswana and J.Lo's mega watt stone from Alex Rodriguez, Jost's token to Johansson is by far the chicest we've seen yet. This is not your standard celebrity engagement ring—read: cushion or emerald cut, 8-10 carats, set in platinum, pavé halo, the list goes on. This piece of jewelry was likely not custom—but is undoubtedly one-of-a-kind.
To start, the ring isn't a conventional shape; the stone appears to be pear-shaped or oval from the images taken at the Marvel event. Additionally, the color—an almost smoky tone—isn't the standard, flawless white one expects of a celebrity stone. The setting isn't typical either, with the stone appearing to sit atop a blackened, curved band, rather than inset into anything gold, rose gold, or platinum.
While the couple has yet to comment or reveal the jeweler behind the ring, it appears to be James de Givenchy of Taffin, known for their innovative creations, otherworldly stones, and forward-thinking approach to fine jewelry. Givenchy is the nephew of the fashion house's founder, Hubert de Givenchy.
https://www.instagram.com/p/BzSQS2xgmD_/
On the jewelers Instagram, the ring (or it's doppelgänger) is listed as light brown in color, 11 carats, and type 2A clarity. As for the cut, Scarlett's seemed to be possibly pear-shaped, but the image on Taffin's feed appears to be more oblong and oval in shape.
Elle.com spoke to two jewelry experts, both who claimed the ring could range from $250,000 to $400,000 in value. But given Taffin's affinity for one-of-a-kind pieces (as well as the discretion of most elite jewelry houses), it's likely that Jost purchased the only ring of this design in the world, and that the value of this piece won't be revealed.
Source: Read Full Article