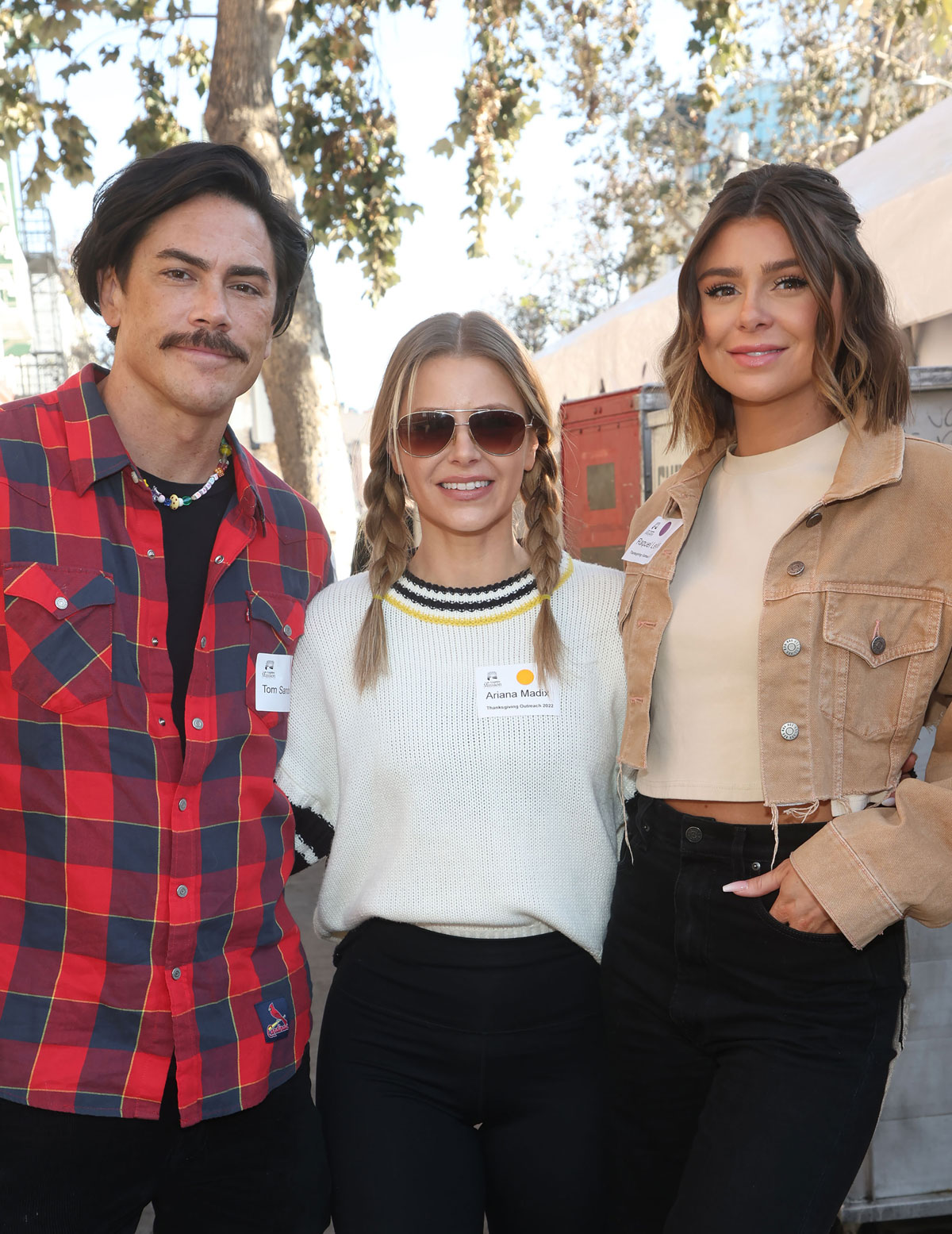 Every detail that comes out about the Scandoval just paints the Tom Sandoval of it all in a worse light. So we already know that Tom and Raquel Leviss were having an affair behind his longtime girlfriend (and Raquel's supposed friend) Ariana Madix's back since probably late last summer. It all hit the fan when Ariana found evidence on Tom's phone and promptly dumped him in early March. But apparently Tom's family was aware in December? According to TMZ, Tom took Raquel for a hometown visit to St. Louis in December and his family refused to meet her. Good!
Just months before the world was rocked by "Scandoval," Tom Sandoval's family was faced with a shock of their own.

The "Vanderpump Rules" star reportedly brought his co-star and lover Raquel Leviss to his hometown of St. Louis in Missouri in late December, TMZ reports.

While there, Sandoval reportedly brought Leviss round to his family's home, and even asked them if they wanted to meet the 28-year-old with whom he's been having a months-long affair behind Ariana Madix's back.

According to the outlet, his family declined the offer and had "no interest" in meeting her.

Sandoval even brought Leviss to meet his pals after reportedly telling them that he tried to split from Madix before the trip.

His friends thought it was "inappropriate" for him to parade his new love interest around, TMZ added.

The outlet also adds that the pair posed for a loved-up snap together in front of the Apotheosis of St. Louis statue in his hometown.

Page Six has reached out to reps for Leviss and Sandoval for comment.

Madix was faced with horror heartbreak last month while out cheering Sandoval on during a performance by his cover band in West Hollywood.

She discovered a sexually explicit video of Leviss, 28, on Sandoval's phone, prompting her to dump him after nearly a decade together.

The secret tryst kickstarted in July 2022, but it wasn't until early March that the world learned about it.

Madix and Sandoval had been dating for almost 10 years and even owned a home and a dog together — which she will reportedly be keeping.

As news of the full-blown affair came to light, both Sandoval and Leviss issued social media statements, respectively.

"I want to apologize to Ariana. I made mistakes, I was selfish, and made reckless decisions that hurt somebody I love," Sandoval wrote in part earlier this month.

For her part, Leviss issued a lengthy statement in which she blamed the affair on her "addiction" to love and vowed to do better from here on out.

"I am reflecting on my choices, speaking to a counselor and I am learning things about myself such as my patterns of codependency and addiction to being and feeling loved," she wrote.
[From Page Six]
So Tom didn't even break up with Ariana, his girlfriend since 2013, before trying to introduce Raquel to his friends and family. I don't know much about Tom's family, but I'm glad they refused to meet Raquel instead of being like "our son can do no wrong" or "he's wrong, but he's still our son." Because sometimes that's the enabling energy from families and you can see how people ended up being bad so I'm glad that's not the case here. It sounds like his friends did meet her, but didn't think much of the pair. And they're right that it was wildly inappropriate for Tom to take Raquel home and "parade" her around while he's still with Ariana. Okay, he "tried" to break up with her. Sure, obviously not very hard. Even his little buddy Tom Schwartz said he kept "procrastinating" on breaking up with Ariana because Tom Sandoval is a coward. And he's also trying to lay a lot of blame on Ariana. He appeared on Howie Mandel's podcast and said Ariana was distant and turned a blind eye and they lived separate lives. Dude, maybe you're just an excellent liar and your girlfriend didn't expect you to cheat with her friend. He also said he and Raquel are taking a break from doing it right now, as if that helps at this point. My question is: I thought Howie Mandel was a germaphobe? I can't believe he got that close to Tom's skeeze.
Embed from Getty Images
Embed from Getty Images
Photos credit: Cover Images, Avalon.red and Getty
Source: Read Full Article