There were many glowing social media posts to Khloé Kardashian on her birthday last week — but none which caused near so much head scratching as that of baby daddy Tristan Thompson.
The NBA star wrote an incredibly sweet, loving post to the mother of his child.
Which was a tad awkward considering she had recently dumped him over a cheating scandal involving a KarJenner family friend — all in front of an international audience.
The now infamous ex wrote:
"Happy birthday @khloekardashian. You are the most beautiful human I have ever met inside and out. Thank you for being an amazing mommy to our princess True. She is blessed to have someone like you to look up to. I wish you nothing but more success and sending you positive blessing your way. Enjoy your day Koko."
Confused?
Yeah, you aren't alone. We've already heard from one source Khloé "didn't really get why he posted it." That same insider said her fam thought it was "because he wants to make himself look good."
But just because that's why the Kardashians do things, doesn't mean it's everyone's first thought.
No, sometimes the simplest, most obvious explanation is the right one…
He's trying to win her back!!!
A new source speaking to The Sun spilled:
"Khloé is totally confused — Tristan has been begging her to get back together, and he posted that long gushing birthday message to her, too. He's been asking her to sit down with him properly, have a heart to heart — but she's refusing."
We certainly cannot blame her for refusing him!
But if he's making his intentions clear, why is she still confused?
Oh no. Don't tell us she's actually thinking about maybe taking him back! She has been fairly defensive of him in public lately…
The source says:
"She wants to keep things civil for True's sake, but she doesn't want to risk falling for him again and getting her heart broken all over again."
Um, where's the risk? What could he possibly do to prove he's trustworthy now??
Well, he's started by setting down proper roots in Los Angeles. The source reveals:
"He's really keen to show her he's changed, though — he's even buying a big 'family' house near Khloé's LA home so he can have True to stay more often, and saying he'd do anything to put things right. Khloé's torn."
That "big family house" could be a 20-bedroom mansion, it would still be too little, too late.
TORN?!? How could she be torn?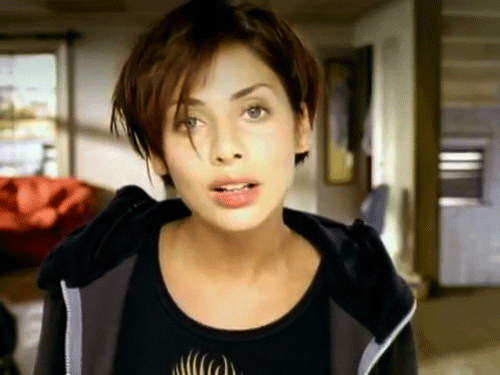 Gurl. This wasn't even his first cheating scandal.
"Fool me twice, shame on me" — but what the heck is it called if you let someone fool you THREE times??
Eesh. What do YOU think Khloé will do??
Source: Read Full Article