Ariana Grande Is Being Accused Of "Appropriating Black Aesthetics" After A Mood Board From Her Tour Got Leaked
Ariana Grande has had quite the drama-filled week.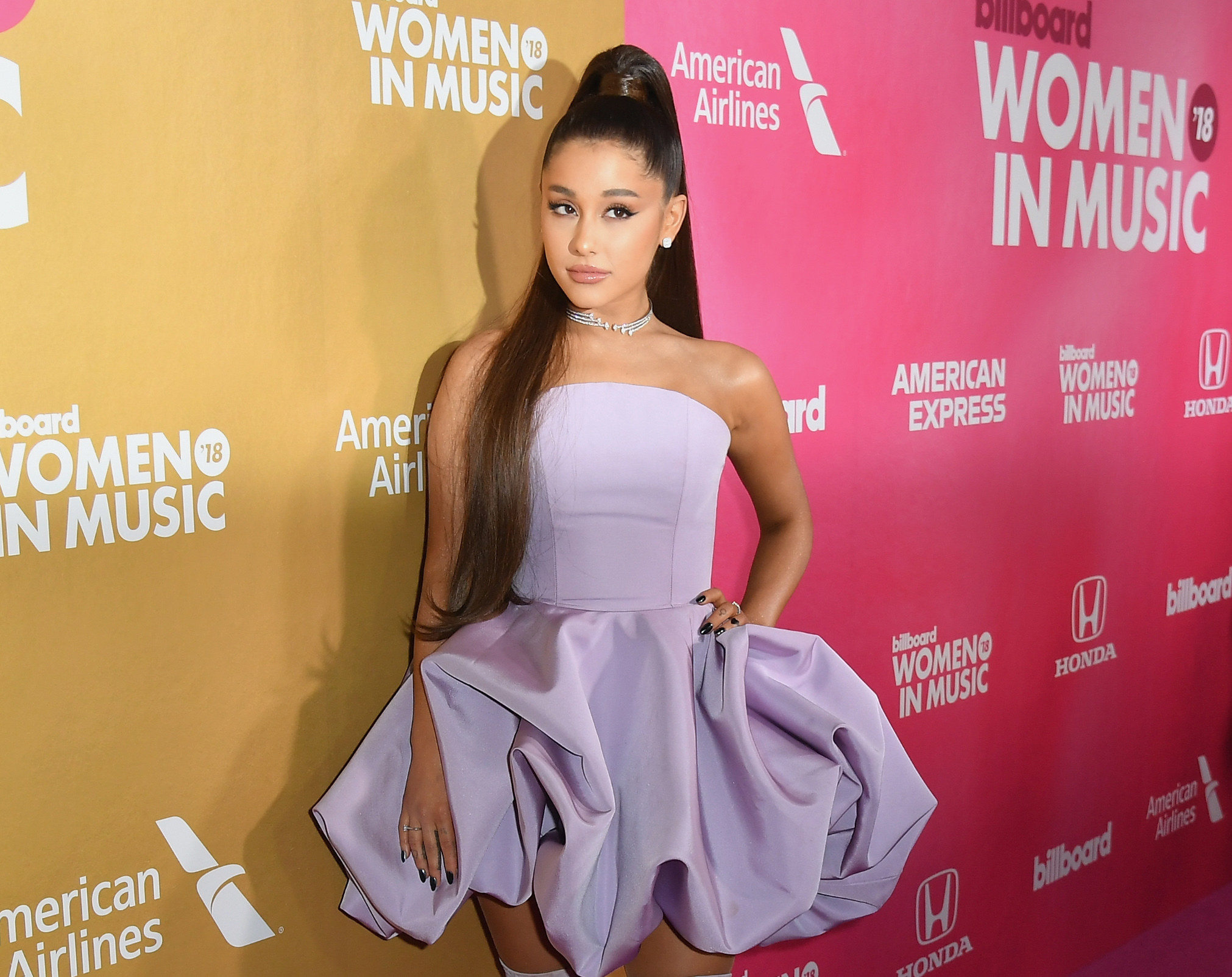 It all started on Tuesday when it was reported that Grande was suing Forever 21 for $10 million. Grande's team accused the fashion retailer of stealing the singer's likeness by launching an "unauthorized marketing campaign" and hiring a Grande lookalike that "falsely suggested" the singer was endorsing the brand.
The social media campaign saw pictures from Grande's "7 Rings" music video posted on Forever 21's Instagram account alongside pictures of the lookalike model wearing similar outfits. The documents also pointed out that these were posted in January and February, suggesting Forever 21 were attempting to capitalise on the success of Grande's Thank U, Next album, which was released around the same time.
According to the suit, Grande and Forever 21 had originally been in talks to collaborate, but the deal fell through because the brand was unwilling "to pay the fair market value for a celebrity of Ms. Grande's stature".
https://instagram.com/p/B0BUDGIpGnw/
When the deal did not come to fruition, Grande's team claimed that, in order to avoid paying the singer to use her likeness, Forever 21 "simply stole it by launching a misleading campaign across its website and social media platforms".
In a statement to BuzzFeed News, Forever 21 denied the allegations, saying they were "huge supporters of Ariana Grande" and were hopeful that they would "find a mutually agreeable resolution" so they could work together in the future.
But the boat was further rocked when drag queen Farrah Moan stepped in, claiming Grande stole the look in question from her. She alleged that the singer took a picture of her outfit to a designer and asked them to copy the look, further accusing Grande of "stealing from queer artists for profit".
In later tweets, Moan suggested it was Grande's team that were to blame and called out the irony of them suing for theft of likeness when, according to her, that was what Grande had done in the first place.
In an exclusive interview with ET Live, Moan doubled down on her claims, alleging that Grande's seamstress told her in person that the singer's team had been "in love" with Moan's original look and "wanted a repeat of it".
https://instagram.com/p/BrYpR_ZhEke/
Moan reiterated that her tweets weren't about gaining profit but standing up for queer and other minority artists whose designs are often copied without credit by bigger names.
Reps for Grande had no further comment on the situation when approached by BuzzFeed News.
But now, Grande is at the centre of another wave of controversy after a mood board for her Sweetener World Tour leaked on social media.
https://instagram.com/p/B2CQq9pnMa1/
Instagram account Diet Prada alleged that multiple designers approached by Grande and her team had shared the mood board, which was largely inspired by black women.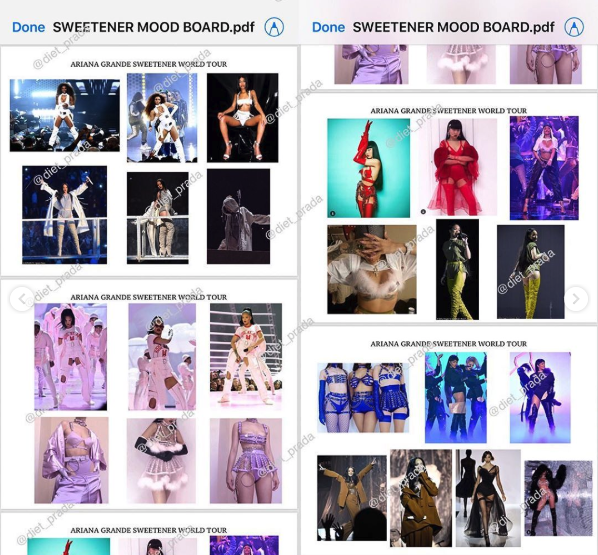 https://www.instagram.com/p/B2CQq9pnMa1/
Accusing Grande of "[appropriating] black aesthetics", Diet Prada said: "72% of the four page document features black women as a reference (mostly Rihanna and a couple Ciara images)."
They went on to add that Versace, who designed Grande's tour outfits, had replicated custom bondage designs by Yeha Leung, only making "minor changes".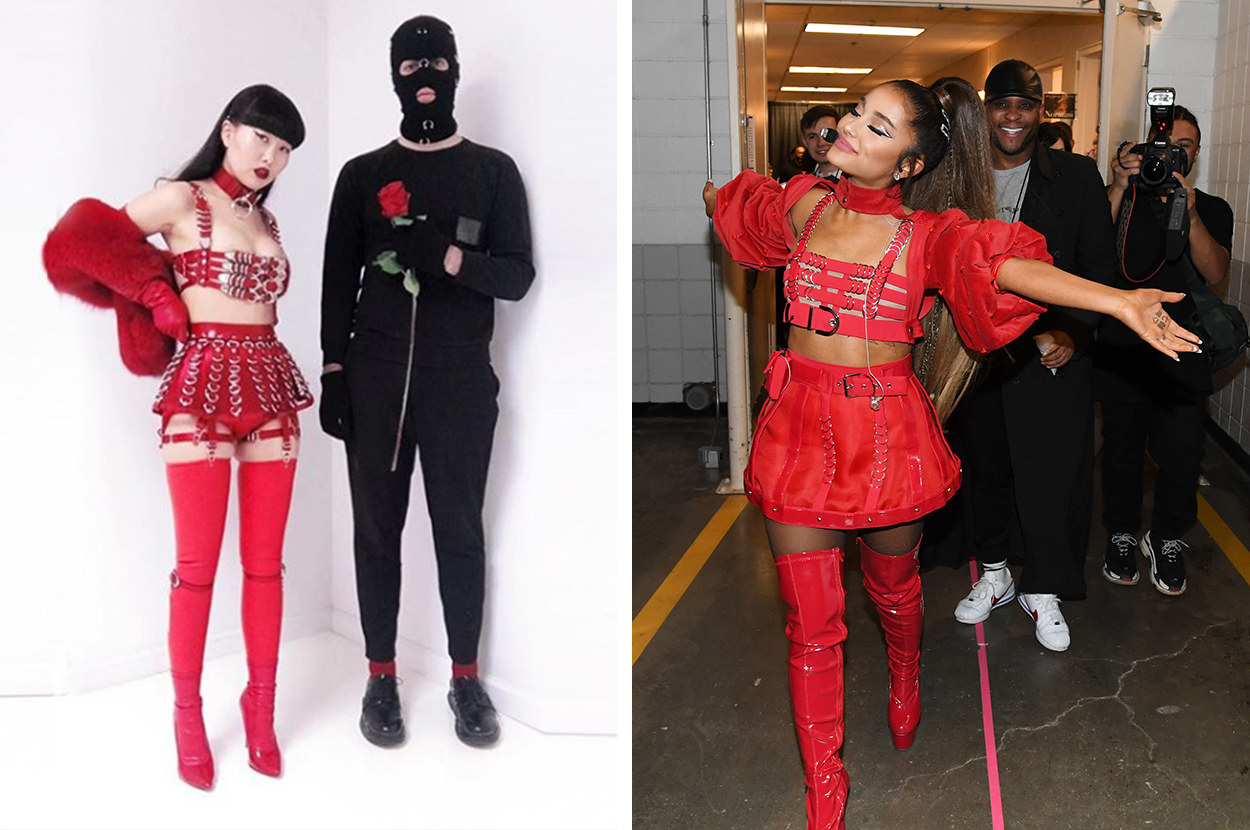 However, Grande's stylist, Law Roach, was quick to step in and defend the singer against cultural appropriation claims, revealing that the mood board had actually been created by him.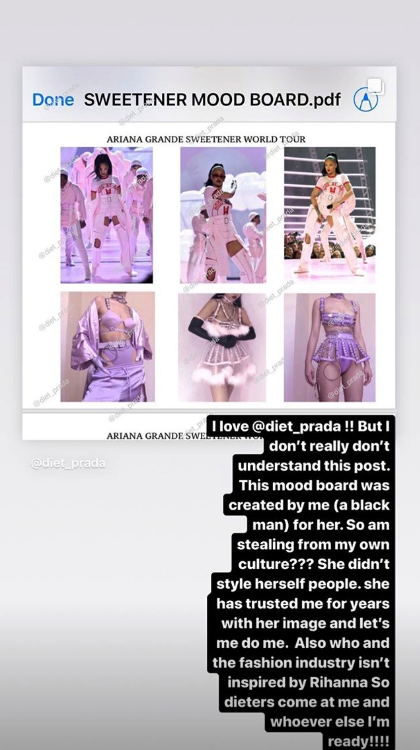 Sharing Diet Prada's claims to his Instagram story, Roach said: "I don't really understand this post. This mood board was created by me (a black man) for her. So am [I] stealing from my own culture??? She didn't style herself people. She has trusted me for years with her image and [lets] me do me. Also who [in] the fashion industry isn't inspired by Rihanna?"
BuzzFeed News has reached out to reps of Grande and Roach, as well Yeha Leung, for comment.
More on this
Ariana Grande Is Suing Forever 21 Because She Says They Used A Lookalike In Ads

Michael Blackmon · Sept. 3, 2019

Ariana Grande Has Been Accused Of Stealing The Likeness Of A Drag Queen After She Sued Forever 21 For The Same Thing

Ben Henry · Sept. 5, 2019
Ben Henry is a celebrity reporter for BuzzFeed UK and is based in London.
Contact Ben Henry at [email protected]
Got a confidential tip? Submit it here.
Source: Read Full Article