Salomon's retrofuturistic ACS Pro Advanced sits at an interesting crossroads of sneaker history. First brought to market in 2005 as the GCS Pro, it was notable for the timing of its arrival (mere months before adidas, who'd owned Salomon since 1997, sold it to the Amer Sports Corporation), its lofty price point ($130 USD, significantly more than most other trail runners in 2005), its advanced cushioning and breathability and its designer (Christian Tresser, who's also responsible for shoes like the Air Max 97 and the YEEZY BOOST 700 MNVN). To current Salomon Sportstyle marketing director and this week's Sole Mates guest Bryan Diaz, it's the perfect encapsulation of the brand.
Diaz — who claims he knew the shoe was a hit when he first laid eyes on it during his very first day working for Salomon — appreciates the ACS Pro Advanced's high-tech look and unique construction. It's also near and dear to his heart as the first Salomon model he personally championed — a clairvoyant choice that's made him into a sneaker industry mover and shaker in his own right. In a conversation with Hypebeast, Diaz discussed his bi-coastal upbringing, the unique perspective it gave him on sneakers, how he found Salomon and fell in love with the brand — and where he thinks Salomon Sportstyle and the ACS Pro Advanced are headed next.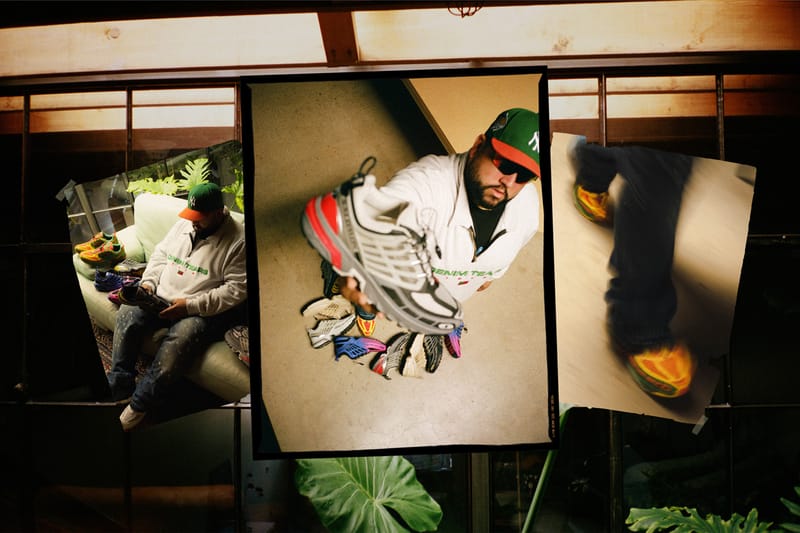 Austin Aubry
What got you into sneakers?
I've been into sneakers since birth. One of my cousins and I were born six weeks apart, and our moms always had us in new sneakers. Of course, that stopped as we got older and our shoes got more expensive. Thankfully, I have some older cousins who were in high school at the time and they'd always give me hand-me-downs: the shoes they wore to school the last year or pairs they just didn't rock as much. They really taught me about sneaker culture, and why having a fresh pair was important. Growing up in Brooklyn, everyone always paid attention to what they were wearing because nobody wanted to get roasted [laughs].
It sounds like sneakers are a family thing for you.
100%. To this day, most of my family members still have crazy sneaker collections. It's important to almost all of them.
You grew up in Brooklyn but moved to Nevada as a teenager. Did that give you a different perspective on sneakers? It feels like you have to dig a little deeper to stay connected when you're not based in a "capital" of sneaker culture.
When I was in New York, it was a lot more common for everyone to have whatever the hot new sneaker was, and, at least as a teenager, the goal was always getting fresh and being fly. On the other hand, a lot of sneakerheads I met on the West Coast were more into collecting ultra-rare pairs. I felt like I had to pay attention to sneaker history a bit more, and began learning about sneakers from a cultural perspective instead of a pure fashion perspective. Those different experiences were really interesting because they helped me really curate my own collection.1 of 2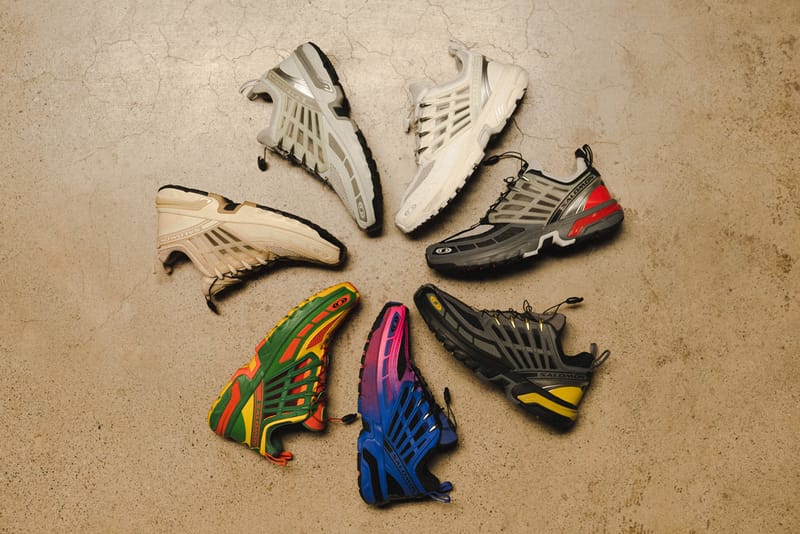 Austin Aubry2 of 2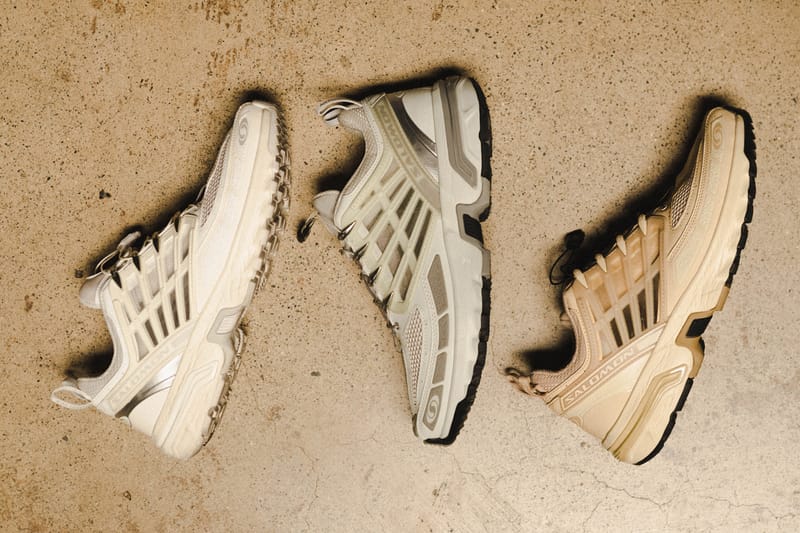 Austin Aubry
When did Salomon enter the picture for you?
Besides opening my eyes to a different side of sneaker collecting, going to Nevada also introduced me to nature. About five years ago, I was in the market for a really good pair of all-purpose outdoor shoes — not just a standard hiker, but something that would work for camping or any other activity. That's how I found Salomon. I was digging around on eBay, where I'd find all my gems, and copped a pair of X Ultra 3 Lows there. I loved them immediately and started buying more and more Salomon sneakers.
So you first fell in love with the brand from a functional standpoint?
Totally. They were purely functional items to me at first, but I started wearing them fashionably as I grew to appreciate them more and more. I had a specific outdoors-meets-city vibe I wanted to go for that I think was way ahead of the curve. My friends and family members used to look at me crazy when I'd show up rocking a pair … and now they all want their own pairs [laughs].1 of 2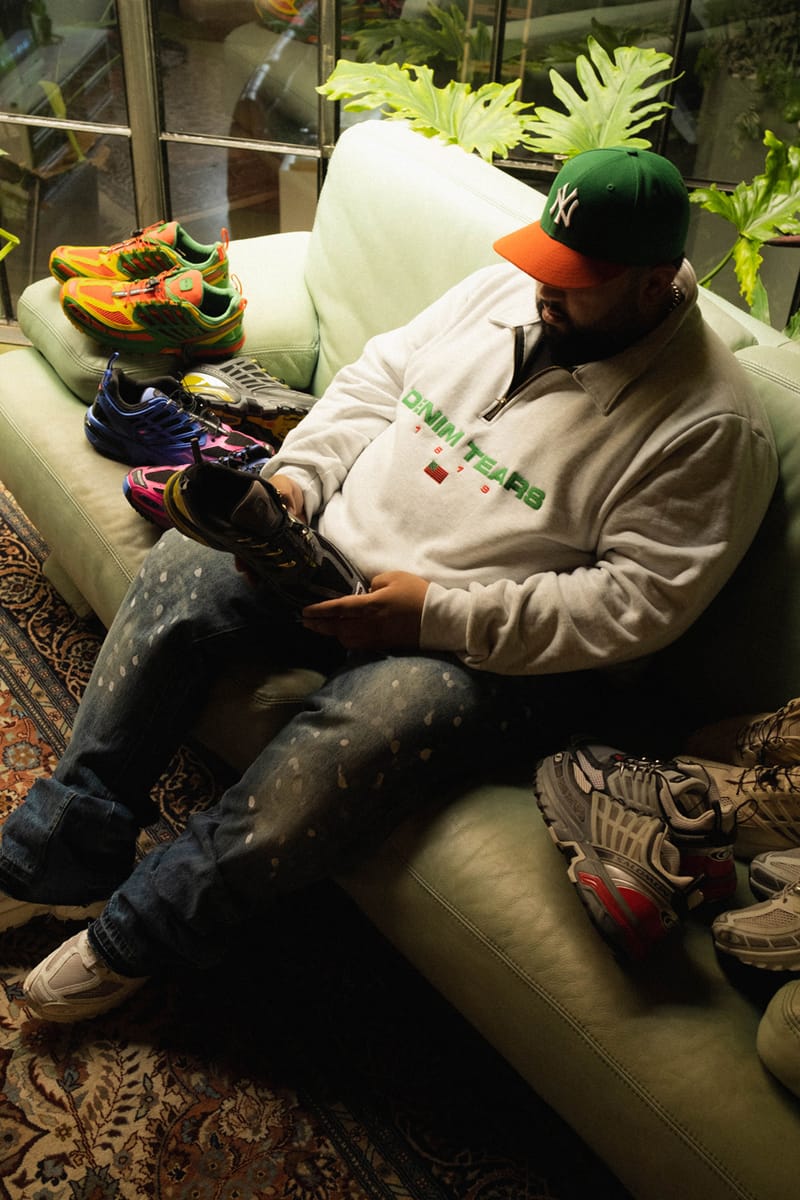 Austin Aubry2 of 2
Austin Aubry
When did you find out about the ACS Pro Advanced for the first time?
My first day of work at Salomon. I had been in the office beforehand for interviews and they let me see some upcoming stuff but wouldn't allow me to open any boxes. Of course, when I started working the first thing I wanted to do was open those boxes.
The very first box I opened had the ACS Pro Advanced in it. This was about seven months ahead of the release, so it was a sample of the "Metal/Frost Grey/Silver," the pair we re-launched the silhouette with. I saw a few other boxes with the same name, so I grabbed all those as well and laid them out in front of me. I looked over at our director of Sportstyle and said "this shoe is going to do amazing." I always knew it would be a hit. It just has all the aspects of a great sneaker.
"[Christian Tresser] always pushes the boundaries with his designs, and the ACS Pro Advanced is a physical representation of his design ethos."
Let's talk about those aspects. What are your favorite things about the design?
One of the things that drew my eye at first was the shape. It reminded me of a racecar with its angles, panels and that squared-off toebox. There are so many good details too, like the midfoot cage and the little pointy metal eyelets that look like claws. Shout out to Christian Tresser [the designer of the original GCS Pro], for real. He always pushes the boundaries with his designs, and the ACS Pro Advanced is a physical representation of his design ethos.
It's impressive that the ACS Pro Advanced is a slightly modified version of a shoe from 2005 and it still looks advanced, like it's a new silhouette that could have just been made today.
For real. I got a chance to speak to Christian briefly after the ACS Pro Advanced came out, and although we didn't have the time to have a deep conversation I did get a chance to give him his props. He made something that'll be part of the Salomon archives for many years to come.1 of 2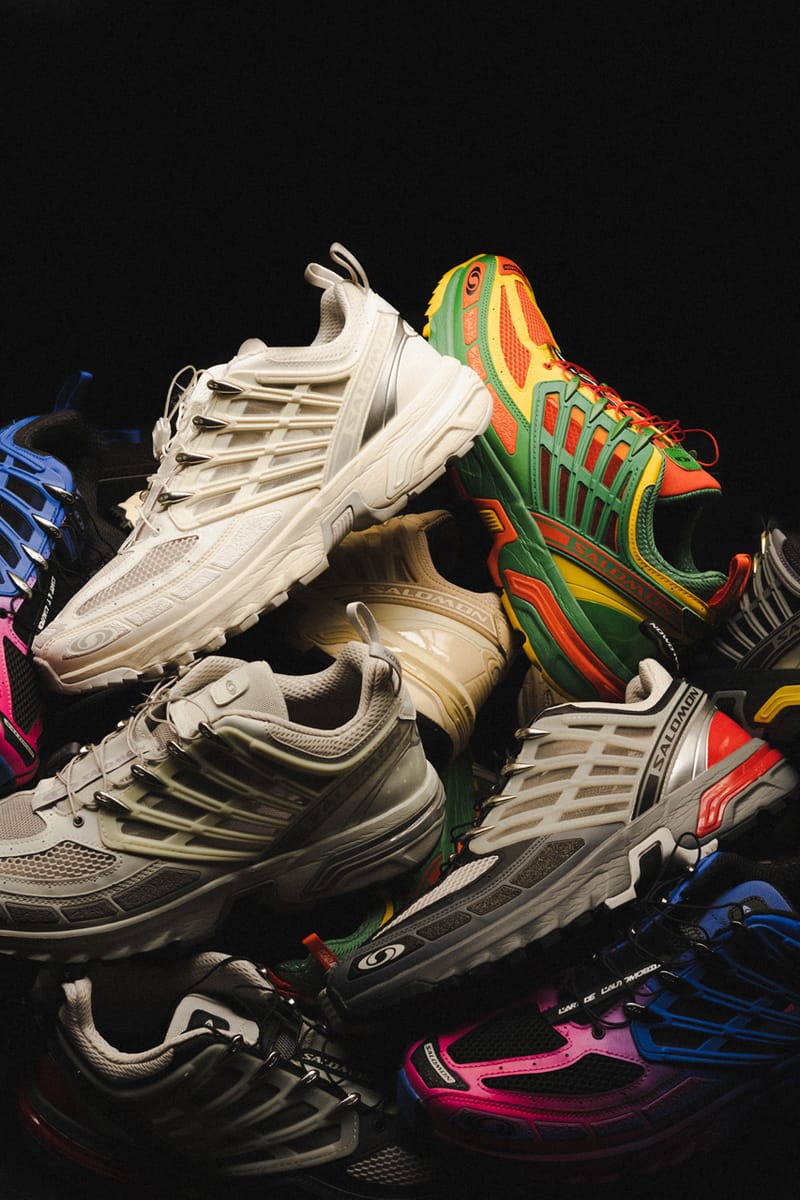 Austin Aubry2 of 2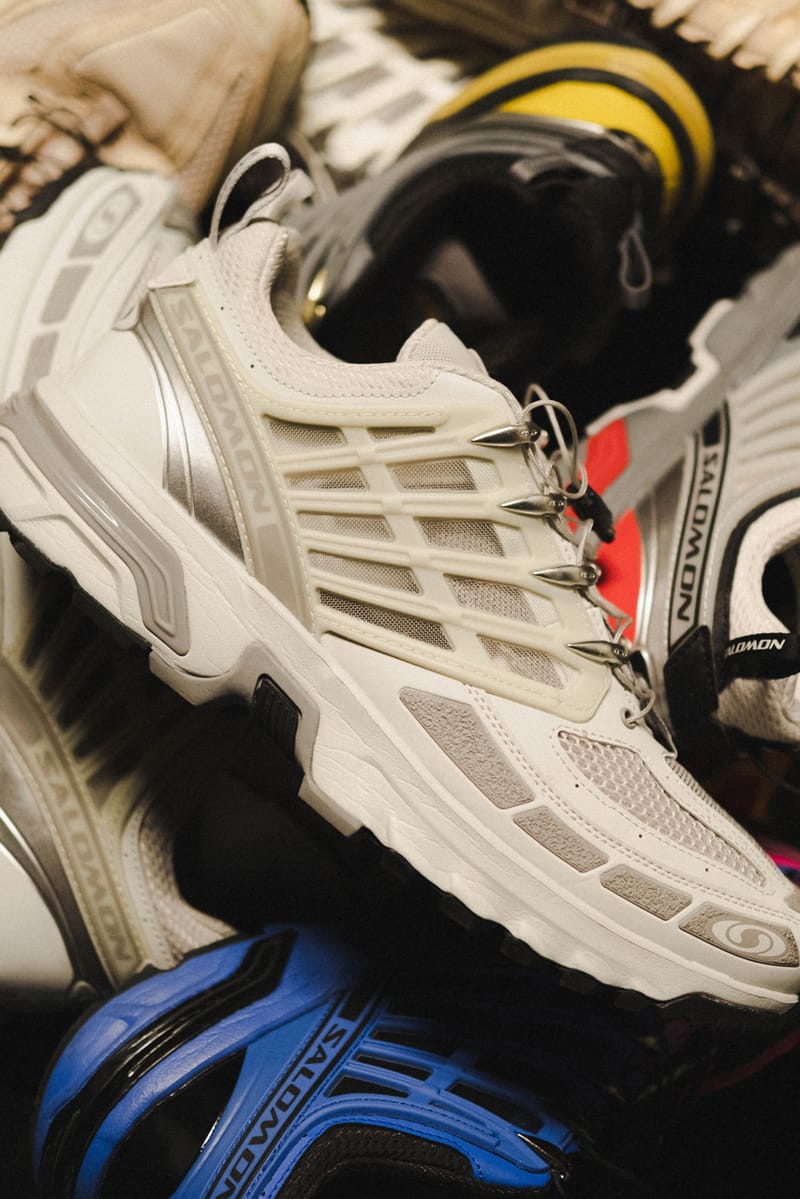 Austin Aubry
As a Salomon employee, I'm sure you're proud of how far the ACS Pro Advanced has come. How do you feel about it as a pure fan of the silhouette? Do you love it for the same reasons you did the first time you saw it, or do you appreciate it in a different light now?
The release and the response to it definitely helped me appreciate it even more. It was awesome to see how many people were engaging with it. That first grey pair brought a lot of eyes to me personally too because I was really championing it. This white pair I'm wearing, I rock at least twice a week. They're a staple. I love that you can wear and wear 'em and they won't crease much, or that if they get dirty you can just wipe them off.
What do you think a collaborator like L'Art de L'Automobile brings to the ACS Pro Advanced's lexicon?
Someone like Arthur Kar [L'Art de L'Automobile founder] is going to take a progressive shoe and make it even more progressive. He put some really crazy colors and clever inspiration on there, and remixed it without changing what made it dope in the first place. It's like mixing up a potion of success, really [laughs]. Mixing crazy colors with a crazy silhouette is bound to succeed.
"I don't think anything is trend-proof. I think everything becomes hot because of a trend, and for a product to have staying power it's all up to the relationship between the brand that produces the product and its audience."
The ACS Pro Advanced is one of the hottest shoes on the market right now, so how do you feel about it from a long-term perspective? Would you say it's trend-proof?
I don't think anything is trend-proof. I think everything becomes hot because of a trend, and for a product to have staying power it's all up to the relationship between the brand that produces the product and its audience. You do that right, a shoe becomes a staple. I certainly hope that the ACS Pro Advanced can live past being a "trend," but knowing what Salomon has come these next few years I'm pretty confident that it's here to stay.
What's the biggest change you've seen in the world of Salomon sneakers since you copped that first pair on eBay?
The craziest thing to me is how the brand has become accepted all across the spectrum. High fashion people love the shoes and so do core sneakerheads. We get love in New York, LA, Paris, Tokyo, Hong Kong. Being able to really set down roots in communities like that is huge because it ties back into what we were just discussing — how a product has to become a piece of a community to survive past being a trend.
Why are sneakers important to you?
They're identity. They're DNA. They're my life. I'll probably be buried in a really good pair of sneakers [laughs].
Source: Read Full Article