Hi Hello, Your Weekly Tarot Card Reading Is Here
You don't need to know the difference between a three-card and a Celtic cross spread to get the most out of a tarot card reading. All you need: your Sun sign! Here's what I do: Shuffle my tarot deck and pull out the cards in order from Aries to Pisces, plus one general card for everyone so that you can get specific advice around your personality. Let's go!
A GENERAL CARD FOR EVERYONE: QUEEN OF WANDS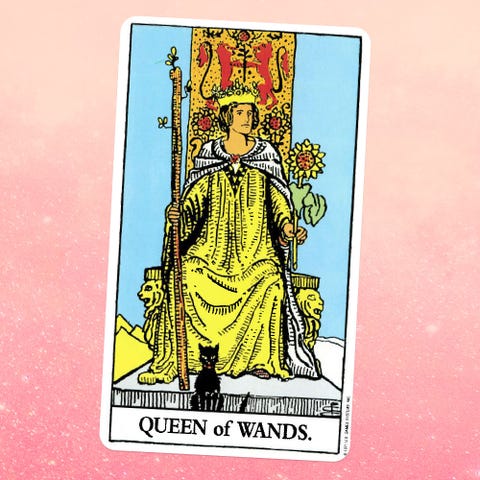 Queens are all about leadership, rising to challenges, and being a beacon of hope for others. Sounds like a lot, no? Actually, behaving this way this week will make you feel empowered and strong. The Queen of Wands is lending you her courage and inspiring presence. Call on her to help out when you want to be better, but feel afraid or inadequate. This week, live up to being your very best self. It's going to feel amazing.
ARIES: TEN OF CUPS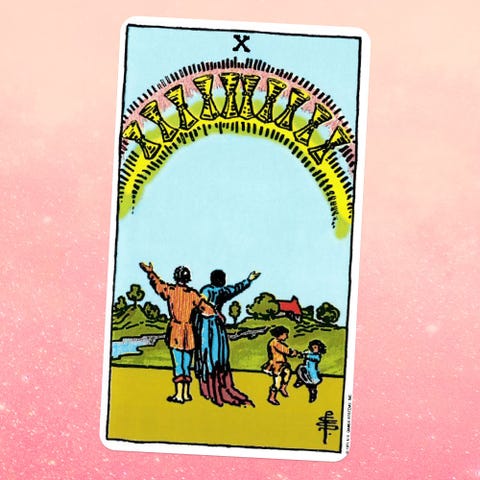 There's always something going on in your love life, Aries, because you're just full of passion and energy. That's no different this week, according to the romantic and loving Ten of Cups card. Whatever your relationship status, expect to turn it up a notch. If you're single, you might meet someone new. If you're casually dating someone, you might DTR. If you thought your 'ship was fading, it might suddenly flame brighter than ever.
TAURUS: EIGHT OF WANDS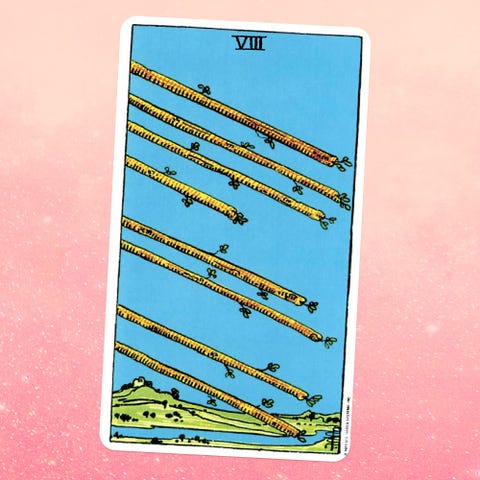 The Eight of Wands represents communications and being in the center of things. Expect the unexpected, Taurus. Be ready to receive news, information, invitations, and opportunities—this will all happen quickly and require an immediate response, so stay on your toes. Don't miss out because you take too long to think it over. If in doubt, say YES.
GEMINI: FIVE OF COINS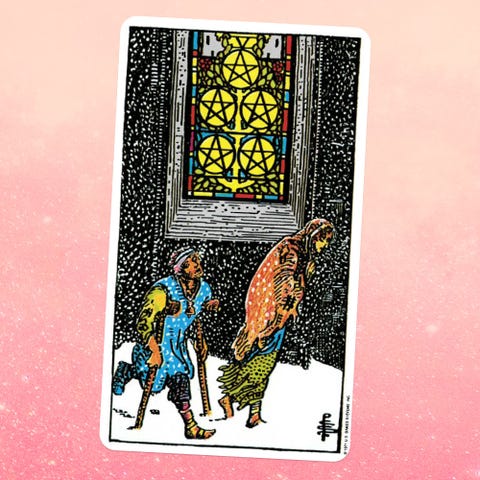 You're normally pretty upbeat, Gemini, so it's a surprise to see you feeling a little sad and regretful this week. You're dwelling on a loss with the ruminating Five of Coins. It happened a while back, but echoes of emotions still haunt you. Don't linger in this mental space, Gem—it's not good for you. Whatever happened is over. It can't hurt you, unless you keep picking at the (healing) wound. Distract yourself and look ahead, not back.
CANCER: THE MAGICIAN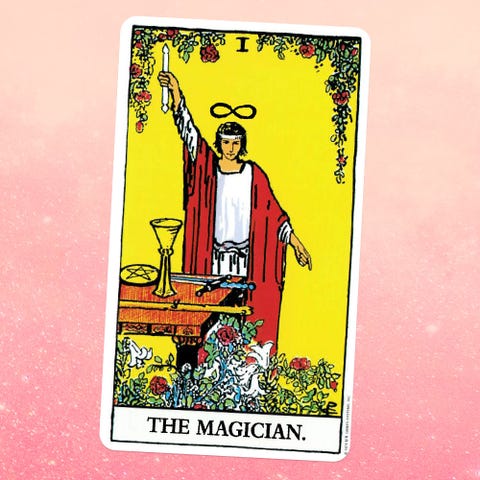 The Magician is a beautiful, positive card about creativity and recognizing your unique strengths and talents. You're seeing ways to make a living or create a role from the things you love doing. Stay on this path, Cancer, because it's how you'll find your niche in this world. You ARE unique, and there is a unique place for you.
LEO: KING OF SWORDS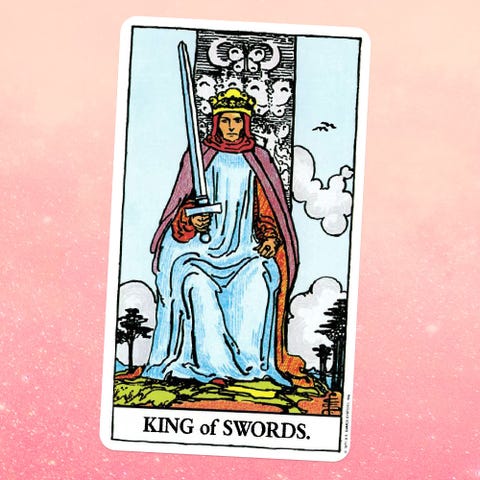 Spontaneity is a big part of your personality. You love having the freedom to go off on adventures whenever you feel like it. But this week, the King of Swords advises you to focus on planning and scheduling. If you can get your obligations and responsibilities organized, it will open you up to more opportunities for spontaneous fu, because you'll know where you stand with your work and commitments. A little bit of planning will go a long way.
VIRGO: THE CHARIOT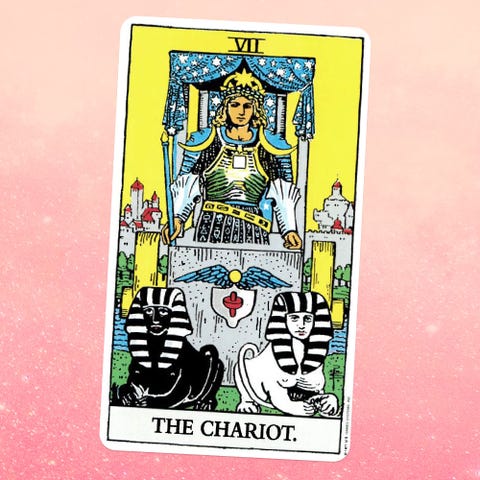 You're on the move, Virgo! The Chariot is a powerful card about action driven by intention, purposeful change, and progress. It also represents literal movement, so a trip, a location change, a move, or a new vehicle could be in your future. What do you have going on? Where do you feel ~growing pains~? Where do you need a change of scenery? Identify the place you want to change, and start making moves this week.
LIBRA: FIVE OF WANDS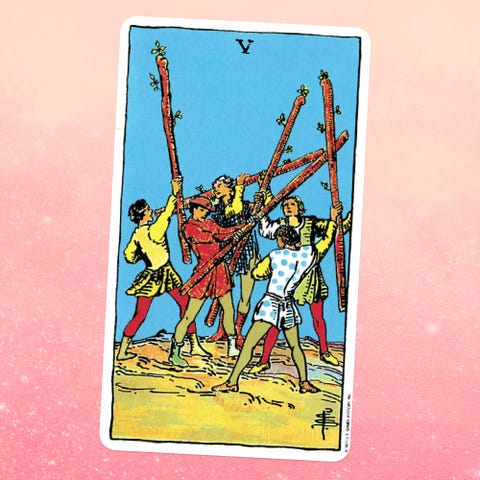 You're a diplomat and a people-pleaser, Libra. You do not like conflict or tension at all. The Five of Wands visits you anyway, Libra, with some drama and conflict among your crew…and maybe yourself, too. Try not to get too involved (emotionally, anyway). Some things just have to play out, and you can't control the narrative. Be tactful, be gracious, and be compassionate. Try and help smooth things over when you can. This will pass.
SCORPIO: KNIGHT OF WANDS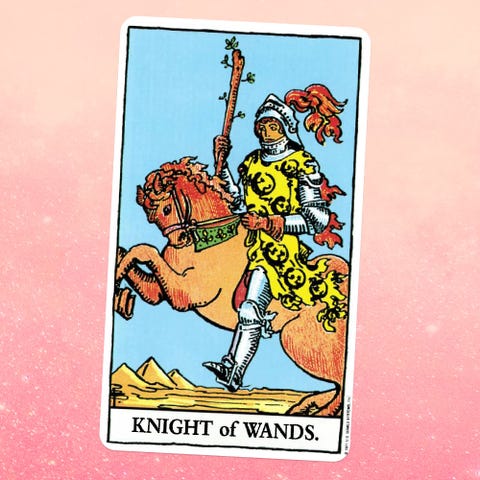 Adventure calls, Scorpio! And, knowing you, that could mean anything. The Knight of Wands is an impulsive explorer kind of character. An interesting portal may emerge in your world this week and, like Jack Skellington, you'll be compelled to jump through it into something new. Go ahead. Sometimes the best destinations are reached without a map. Expect the unexpected and follow your instincts.
SAGITTARIUS: QUEEN OF SWORDS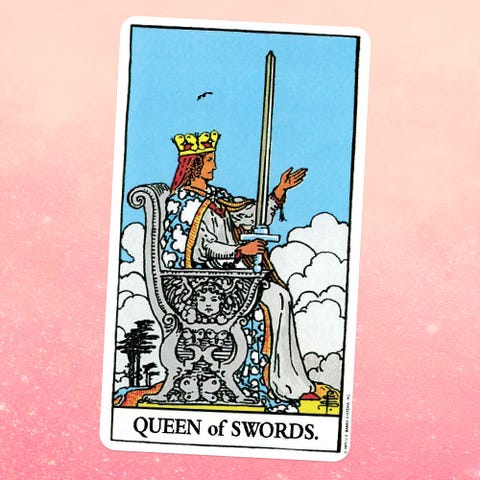 You're a smartypants, Sagittarius, though your goofy personality means that sometimes people underestimate you. That's okay; you're not afraid of going solo. The Queen of Swords sees you striking out on your own this week, pursuing an ambition that you've tailored to your dreams and ideals. You're determined to make this happen, and you will! Give it your all.
CAPRICORN: ACE OF CUPS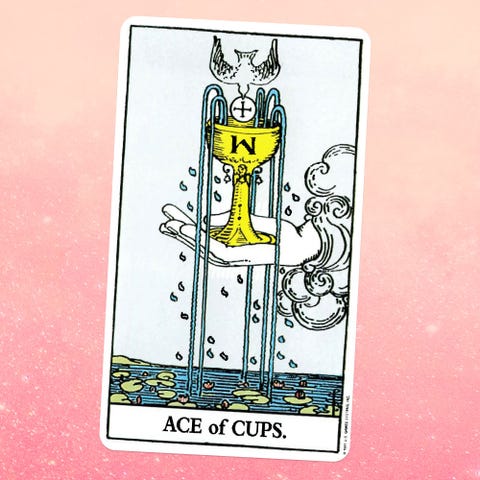 A new love is in the cards for you, Cap, and it's a big one (think romance, deep friendship, or even a new family member). The Ace of Cups is about new relationships that help us appreciate life itself, bringing joy and happiness back into our lives. Look out for sexy water signs (Pisces, Scorpio, and Cancer) and pay attention to the chemistry you feel with others. Be ready to start something new with someone new.
AQUARIUS: SEVEN OF SWORDS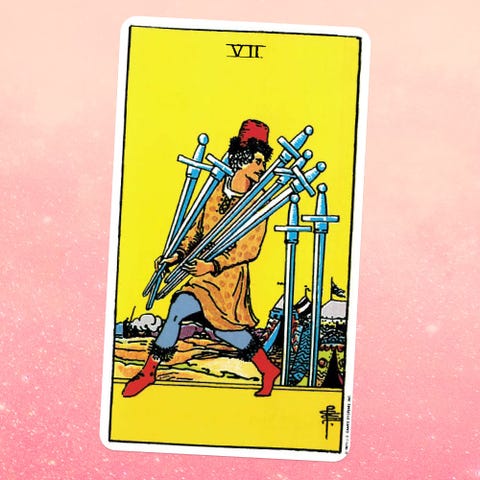 Not everyone is on your side, as you're about to be reminded. The Seven of Swords is shady. It's a warning not to give too much of yourself away to people you don't entirely trust. Keep your guard up, play it safe, and if in doubt…don't! The shade will clear, and you'll be glad you didn't engage. Be careful and cautious this week.
PISCES: THREE OF CUPS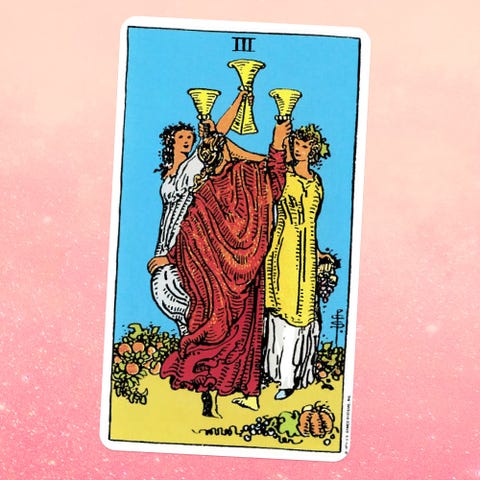 Have fun, Pisces! The Three of Cups is a reminder that we're here for a good time and not necessarily a long time; the world is full of pleasure and adventure if we're up for it. Obviously, there are restraints and restrictions right now, but that doesn't mean everything has to stop. Pisces, you're a mutable sign and therefore a magical shape-shifter and adaptor. Show others how to be flexible and make the most of things.
Source: Read Full Article