Royal Fans Slam Prince Harry and Meghan Markle's Secret Ibiza Trip, Calling Them 'Hypocrites' for Using Private Jet
We're pretty sure there was a flight available out of Heathrow?
Recently, Prince Harry and Meghan Markle packed up baby Archie and jetted off to Ibiza to celebrate Markle's 38th birthday in style. No one is begrudging the new parents taking the trip — after a whirlwind year of charity events and speaking engagements, it's clear that these two deserve a vacation. The part everyone takes issue with is how the Duke of Sussex is lecturing on climate change while using a private jet.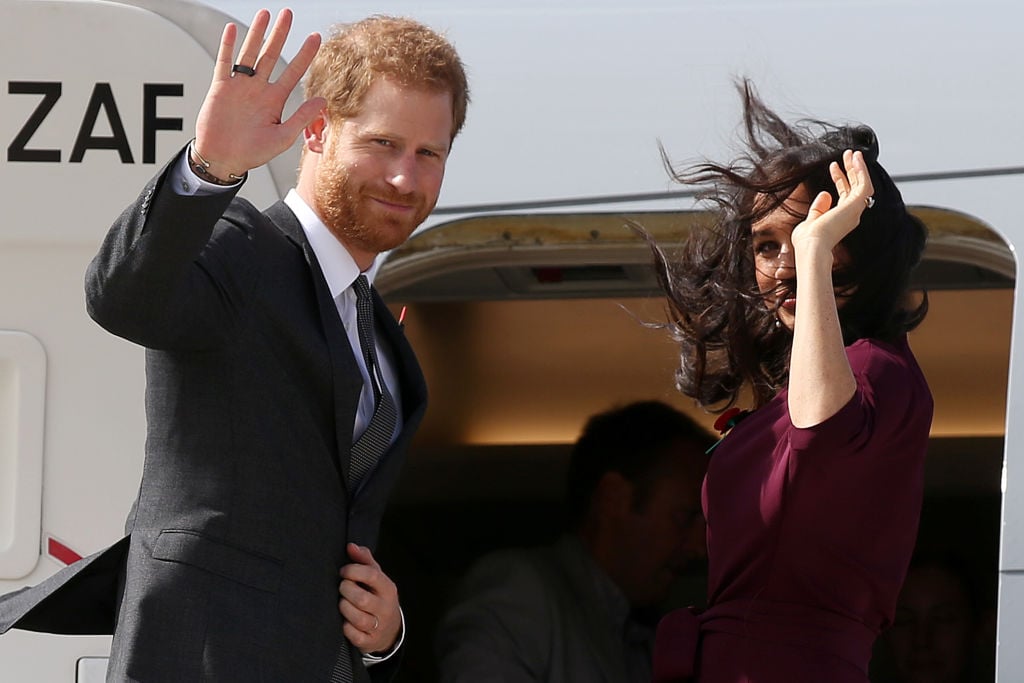 For their family trip to Ibiza, Prince Harry and Meghan Markleonce again hopped aboard a friend's private plane rather than flying commercial(which the royalfamily is known to do). It's reportedly the same plane Meghan Markle usedwhile flying to her American baby shower earlier this year.
The whole thing has critics saying the Duke of Sussex is acting like a massive hypocrite.
Prince Harry just lectured everyone on reducing their carbonfootprints
His timing couldn't possibly be worse. Mere weeks after Prince Harry met with famed primatologist and climate change awareness advocate Jane Goodall, the Duke of Sussex got caught wasting massive amounts of fossil fuels. Later, he appeared barefoot and urged the public to "take action" at an event he had arrived at via private jet (again).
https://www.instagram.com/p/B0RPO-UFmJ0/
During his meeting with Goodall, Prince Harry admitted that he hadreal concerns about the future of the planet, especially now that he'sa father. He told her that he and Meghan were doing their part to controlpopulation growth by limiting their family to "two children, maximum" — acomment which likelyannoyed his older brother Prince William, who already has three kids.
Princess Diana used to fly commercial with her kids
The former royal protection officer in charge of Princess Diana, Prince William, and Prince Harry had opinions about Prince Harry flying on private jets. According to Ken Wharfe, that type of behavior isn't necessary — even for a royal.
"During my time at the palace most of the flights we took were commercial on British Airways, the national carrier," Wharfe explained to Vanity Fair. "BA were always very helpful with VIP departures and keeping the flights out of the press. I never had a problem with Diana, William, and Harry on the numerous holidays we took to the Caribbean."
"We always flew commercial; in fact I don't remember flying private," he continued. "It's no guarantee that the security is any better. You're better off with BA security because they're used to working with VIPs."
https://www.instagram.com/p/Bwj2roEBbwL/
Everyone is calling PrinceHarry a huge hypocrite
Critics of the royalfamily are having a field day with Prince Harry's frequent private plane usage.But even fans are questioning how he's justifying actions that don't line up withwhat he's saying.
Wharfe had some strong words. "Frankly it is hypocritical. Harry can't be preaching about the catastrophic effects of climate change whilst jetting around the world on a private plane. It's all well and good standing up and preaching but I think the public will see this as hypocritical. Why put another plane in the air when you could go commercial?" he queried.
Maybe next time PrinceHarry and Meghan Markle will hop aboard British Airways and spare themselvesthe criticism!
Source: Read Full Article