In 1988, she stood there in the flesh, dressed in blazing red, to formally declare Australia's new Parliament House open.
Thirty-four years later, Sir William Dargie's famous portrait of Queen Elizabeth II in a wattle-coloured gown was displayed at the centre of parliament's Great Hall for the late monarch's national memorial service.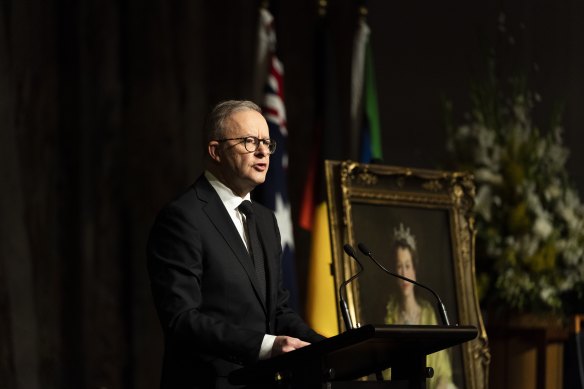 Prime Minister Anthony Albanese, addressing the Queen's memorial service in the Great Hall of Parliament House.Credit:Alex Ellinghausen
It was an understated and distinctly Australian occasion, with little of the pageantry that accompanied the Queen's funeral in London earlier in the week.
Melissa Doyle, the former host of Channel Seven's Sunrise, was master of ceremonies; Australian Idol runner-up Anthony Callea sang the national anthem. The Australian Girls Choir performed the Queen's wedding hymn, Psalm 23 (The Lord is My Shepherd).
Seated in the 700-strong invite-only crowd were High Court justices, premiers, defence chiefs and department secretaries. Chinese ambassador to Australia Xiao Qian was there, but no sign of his Russian counterpart.
Among former prime ministers, devoted republican Paul Keating was in the same row as monarchists John Howard and Scott Morrison, while Tony Abbott, who led the charge against an Australian republic in the 1990s, was notably absent.
Most of the current members of parliament were in attendance, but Greens senator Lidia Thorpe instead marched in an "abolish the monarchy" rally in Melbourne.
Sitting on the lawns outside on a gloomy Canberra day, a couple of hundred people gathered to watch the event on big screens. Michael and Eileen Smith, originally from Yorkshire, said they wanted to come to mark a "moment in history".
Prime Minister Anthony Albanese described Queen Elizabeth as a "rare and reassuring constant in a world of change", saying she stood for the qualities Australians loved most about their own parents and grandparents. Wisdom. Patience. Work ethic. Service above self.
"In an age of performative celebrity, the Queen embodied quiet dignity," Albanese said. "In an era of fads and fashionable causes, the Queen did not seek to chase the times."
Governor-General David Hurley said the Queen's death, while inevitable, "has still struck with an impact that has exceeded any expectation here in Australia, in the United Kingdom and, indeed, across the globe".
While he said the Queen was a largely unifying figure, Hurley noted her death had "prompted different reactions for some in our community".
"I'm conscious and respect that the response of many First Nations Australians is shaped by our colonial history and broader reconciliation journey," he said. "That is a journey we as a nation must complete."
Opposition Leader Peter Dutton said Australians had "gravitated to her gentle demeanour, we were drawn to her radiant smile and we were captivated by her wise words".
"She regenerated the monarchy, leaving an institution immortalised for the future," he said.
As the service reached its end, attendees lined up to lay sprigs of wattle before singing God Save the King.
With parliamentary business on Friday dedicated to condolence motions for the Queen, any debate about the future of Australia's constitutional arrangements could wait a little longer yet.
Cut through the noise of federal politics with news, views and expert analysis from Jacqueline Maley. Subscribers can sign up to our weekly Inside Politics newsletter here.
Most Viewed in Politics
From our partners
Source: Read Full Article