Hairstylists should be prepared for an onslaught of trendsetters asking for orange hair this spring. Why? Because BLACKPINKs' Jennie just went from pitch black hair to a whimsical peach-toned orange.
All four BLACKPINK members have become fashion icons and often copied trendsetters. When Jennie shared photos of her new hair, social media lit up with Blinks (BLACKPINK fandom) praising their it girl. The change also signals that BLACKPINK's confirmed comeback may be right around the corner.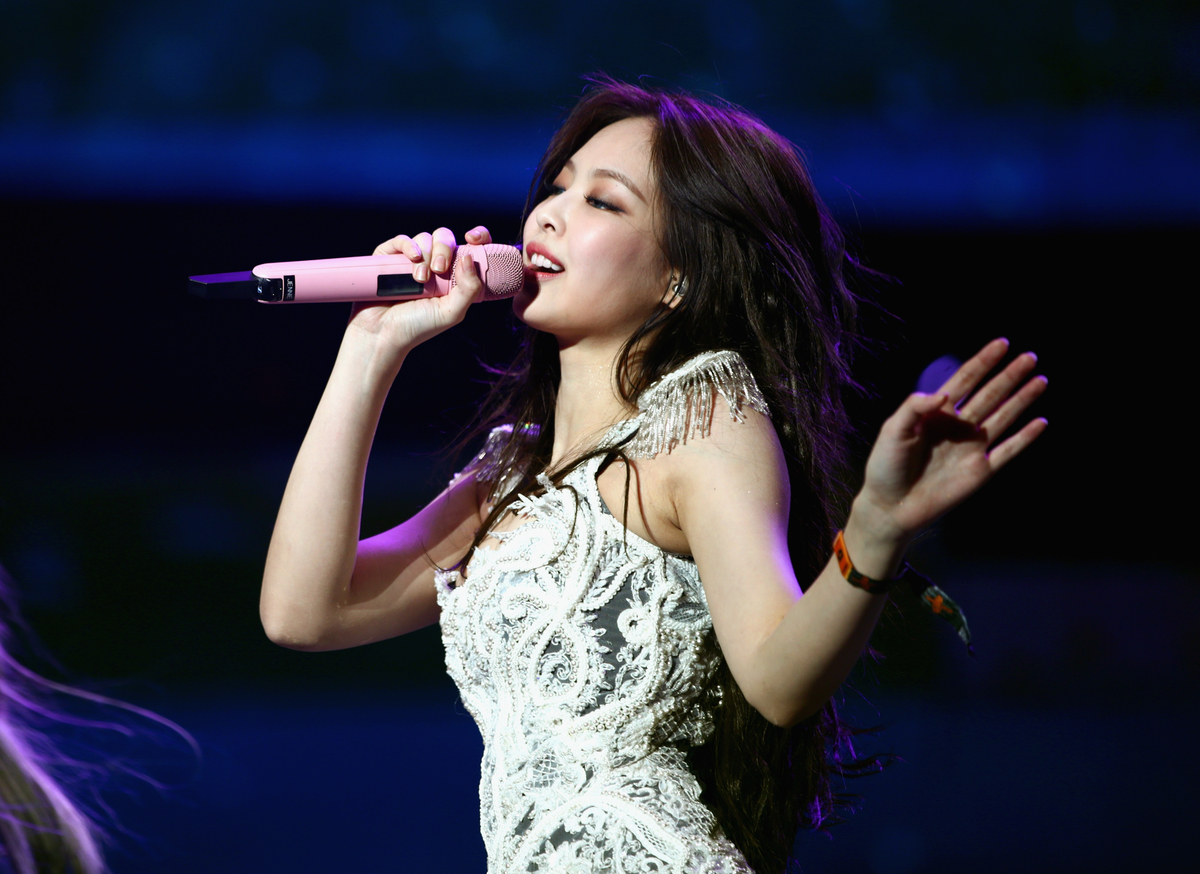 Jennie writes the Instagram caption 'don't talk to me or my new hair'
On Sunday, Apr. 10, Jennie broke the internet. Okay, maybe the internet didn't break, but her dramatic hair color change sent shockwaves through the international K-pop community. Ditching her black hair for a bright peach-toned orange color, Jennie posted multiple pictures of her new look on Instagram for her 65 million followers.
The post contained six pictures of K-pop idol Jennie posing next to orange flowers that seemed to match her new hair color. The caption read, "Don't talk to me or my new hair," with an orange heart emoji at the end.
Jennie was wearing a Calvin Klein t-shirt and matching Calvin Klein jeans in the photos. Earlier this year, she renewed her partnership with the fashion brand. She also has a deal with Chanel. The 26-year-olds image is an essential part of her brand. The clothing she wears to the airport sells out globally within days, sometimes within hours.
Jennie says BLACKPINK is 'making a comeback soon'
K-pop fans know a dramatic hair color change usually signifies a comeback is around the corner. BLACKPINK last released new music in 2020 with The Album. In a genre as prolific as K-pop, the nineteen-month lull without new music feels like an eternity for fans.
While not releasing new music as a group, Jennie, Jisoo, Rosé and Lisa have stayed busy with individual projects. All four members were individually featured in fashion campaigns for brands like Tiffany, Dior, Chanel, and YSL.
Both Rosé and Lisa found success as solo artists. Jisoo starred in the Disney+ K-drama series Snowdrop. Jennie collaborated with Gentle Monster on an eyewear brand and mobile game app.
In March, Jennie confirmed a BLACKPINK comeback would happen soon during an appearance on the Korean variety show The Game Caterers.
"Blackpink is making a comeback soon." She shared, "I don't know if I'm allowed to say this, but since I'm the only one here, I'll just say it. Please look forward to it."
BLACKPINK is the most successful girl group in the world
For those who may not be familiar with Jennie, she's a singer and rapper from the most successful girl group in the world, BLACKPINK. They were the first K-pop group to play Coachella and reach 1 billion views on YouTube.
The group debuted in 2016 on YG Entertainment. With their first single, Whistle, they brought a refreshing vibe to the K-pop genre. BLACKPINK's sassy songs and powerful, confident visuals connected with fans worldwide.
In a 2020 Forbes interview when asked about the title of biggest girl group in the world Jennie said "We're very honored to be named the biggest girl group because we all started wanting to be that." She continued, "It's hard to see the reality where people actually call us that. We feel very responsible… and pressure."
Source: Read Full Article