Megan Thee Stallions Most Controversial Moments
Megan Thee Stallion is not exactly a stranger to media attention. Ever since the Texas native burst onto the scene with her unique hip hop and freestyle skills, she's captured fans' hearts — and her fiercely outspoken attitude has only added to that. But as the star, who went home with the Best New Artist statue at the 2021 Grammys, noted in a 2020 op-ed for The New York Times, she's most certainly "not afraid of criticism" and also isn't scared to make her voice heard.
It sounds like Megan is only getting more at ease as her career progresses, too. "I'm realizing that I don't have to be in full glam every time you see me, because I'm just getting more comfortable with myself and more comfortable with my skin," she told Harper's Bazaar during a cover feature for the March 2021 issue. "I know that I'm a person that everybody looks to, and they're like, 'Oh, Megan, she's a confident woman. She's so strong.' But you have to go through things to become that person," she added.
But with such a big personality and an unfiltered approach to sexuality and confidence, Megan's certainly hit the headlines a few times for some contentious moves. Keep scrolling for a rundown of some of the star's more controversial moments.
Megan The Stallion was called out over homophobic tweets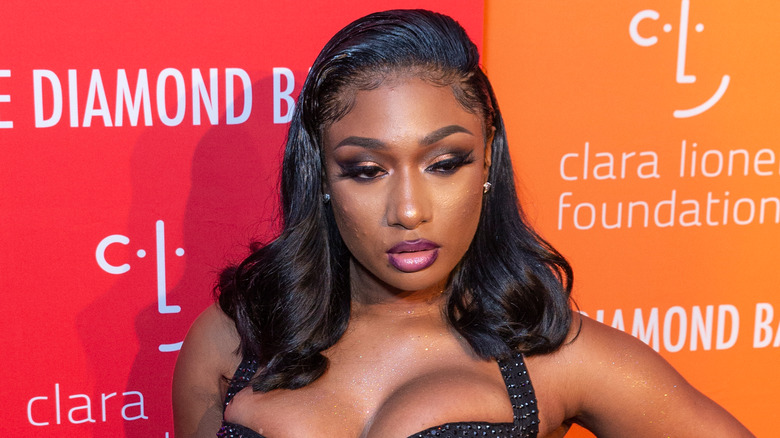 Megan Thee Stallion is one of a long list of celebrities whose past tweets have come back to haunt them. The star has been called out on more than one occasion over homophobic tweets posted in 2011 and 2012. According to Billboard, in one tweet, Megan used a homophobic slur to name someone who had "pissed [her] off."
She first apologized in 2018 after the language resurfaced, tweeting, "I grew up [and] learned how to not be insensitive. I don't judge anyone I accept everyone as they are no matter their color or sexual preference."
The controversy was then brought up again the following year, forcing the "Savage" hitmaker to hit back for a second time. "You going this far over a tweet from 2012 ? that obviously meant no harm coming from me in high school, you mfs are sick," she responded to a Twitter user, whose original tweet has since been deleted. "I've already apologized for tweets that obviously do not represent my views now. I don't do nothing but show love to everyone so just stop," she continued in a follow-up message.
The hit song WAP ruffled more than a few feathers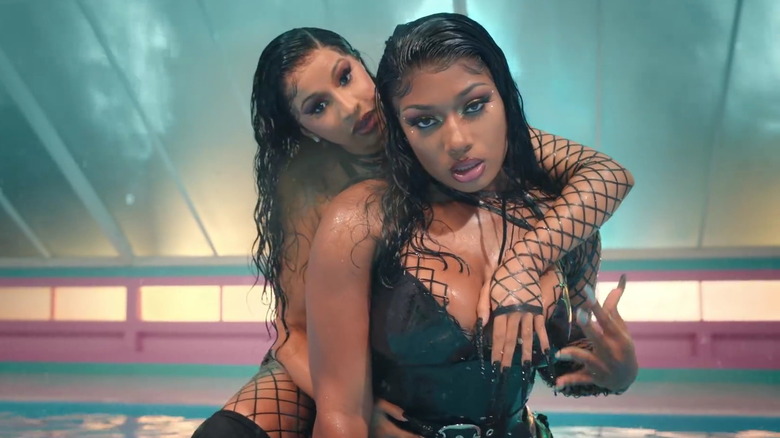 How could we compile a list of Megan Thee Stallion's controversial moments and not mention all the hoopla that surrounded "WAP," the NSFW collaboration with Cardi B that shocked the world? The explicit lyrics of "WAP" coupled with the suggestive music video had everyone talking when the single dropped in August 2020.
Snoop Dogg was one of those who called out the song. "That should be a woman's pride and possession. That's your jewel of the Nile," he said during an interview with "Central Ave," referring to the, erm, specific body part the song is about. "That's what you should hold on to. That should be a possession that no one gets to know about until they know about it." Many Republicans were also livid and voiced their disapproval on social media, with some even claiming the song should be banned (per Hollywood Unlocked).
Megan has defended the track on multiple occasions, including telling GQ in December 2020, "Some people just don't know what to do when a woman is in control and taking ownership of her own body. I feel like for a long time men felt like they owned sex and now women are saying, 'Hey, this is for me. I want pleasure. This is how I want it or don't want it.'" That didn't stop the backlash, though. When Megan and Cardi B performed the track at the 2021 Grammys, the FCC received more than 1,000 complaints (per Rolling Stone).
Megan Thee Stallion seemingly refused to share the stage with DaBaby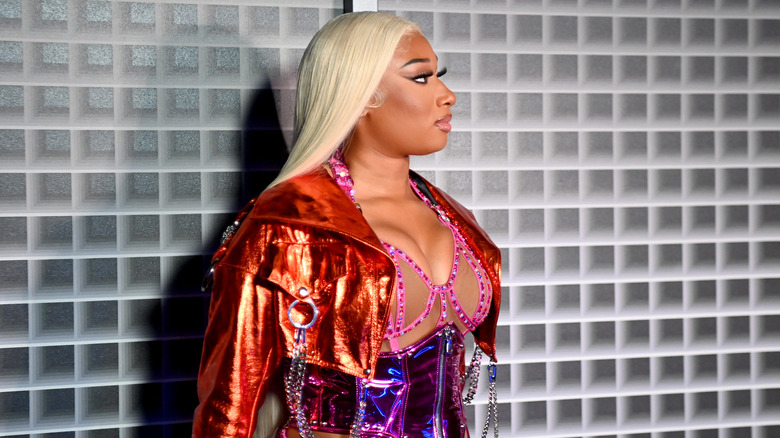 It seemed like Megan Thee Stallion wasn't too keen to be seen on stage with DaBaby in June 2021 — the same month as Megan unfollowed him — amid their apparent feud. Fans tuning in to the 2021 BET Awards noticed Megan apparently leaving the stage during a performance of "I DID IT" with DJ Khaled. 
One Twitter user shared a video of the moment and wrote, "Lmaooooooo Megan Thee Stallion said nah I will not be on the stage with DaBaby" with three crying laughing emoji. The clip has been viewed almost 690,000 times, as well as receiving more than 4,100 retweets and over 33,800 likes. "Megan leaving the stage before DaBaby performed… Yikes…," another said of the viral moment.
The twosome's falling-out has been pretty public. Nearly a year after Megan was shot at a party and alleged Tory Lanez was responsible, DaBaby not only appeared on a song with him, but seemingly "retweeted a post that made light of" the incident, according to People. (DaBaby said the retweet was an accident.) Megan tweeted in response, "Support me in private and publicly do something different…these industry men are very strange. This situation ain't no damn 'beef' and I really wish people would stop down playing it like it's some internet s**t for likes and retweets."
Megan Thee Stallion's Harper's Bazaar cover wasn't well received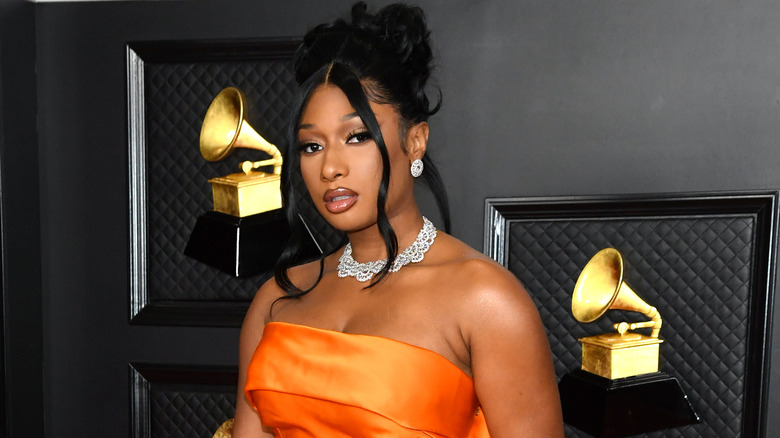 Megan Thee Stallion appeared on the cover of the February 2021 issue of Harper's Bazaar — but not everyone was loving the creative choices behind the shoot. Twitter was flooded with remarks from fans about the snaps, with some claiming the photos — which Megan reportedly helped choose and edit — made her look "washed out" (via Los Angeles Times). "Megan's [Harper's Bazaar] editorial is disappointing," one person tweeted. Another wrote, "So mad [Harper's Bazaar]!!!!!!! This is inexcusable!!!!!"
Many also pointed to the fact that a white photographer, Collier Schorr, was used for the shoot and suggested someone who had more experience photographing Black artists should have been brought in. "I looked at all the published images from Megan's shoot with Harper's… And they are not good. White photographers need to learn how to light and capture Black skin. Either way, there need to be (way) more Black photographers hired for shoots like this," one person tweeted.
However, as is typical on social media, not everyone agreed. "I don't see anything wrong with Megan's Harper's Bazaar cover. That's literally how that lady looks without the heavy filters," one Twitter user wrote. Megan didn't appear to address the controversy directly, but seemed pretty happy with the snaps. She posted two versions of the cover to Instagram alongside the caption, "UNSTOPPABLE [strong arm and fire emoji.] HOTTIES IM ON THE COVER OF @harpersbazaarus !!!" The upload received more than 945,600 likes.
TikTok users went on strike when Megan Thee Stallion's Thot S**t dropped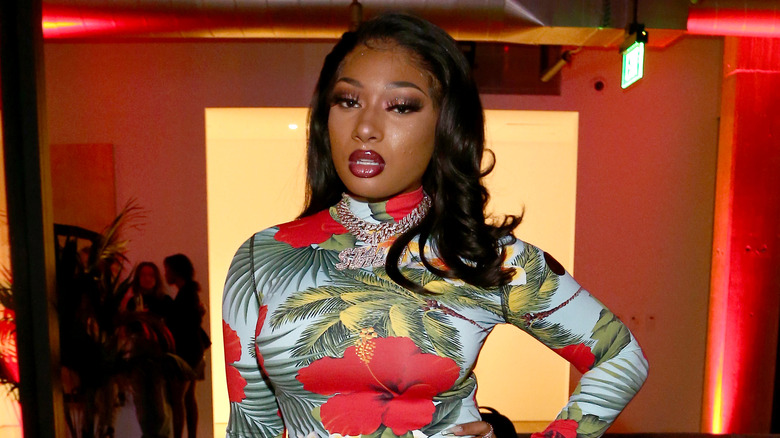 Megan Thee Stallion's music has become a fixture of TikTok, and it has also ended up at the center of a TikTok controversy. In 2020, dancing to Megan's hit "Savage" was a huge trend on the social media platform, while "WAP" and "Body" are also amongst the star's tracks that got everyone on the social media site creating and sharing routines. However, when Megan dropped "Thot S**t" in June 2021, there was no such fanfare on TikTok.
As reported by CNN, a number of the platform's popular dancers flat-out refused to create dances for the track and instead said they were on strike. Many Black influencers made it clear that they weren't happy with the way they were treated on the platform, particularly when it came to receiving credit for their dances (see: the Addison Rae and Jimmy Fallon backlash) and who gets paid for them.
Though Megan and her team appeared to stay quiet regarding the matter, TikTok said in a statement that it "would not be what it is today without the contributions of Black creators," noting that the platform is "committed to honoring and celebrating this community, today and every day."
Megan Thee Stallion was forced to defend her SNL performance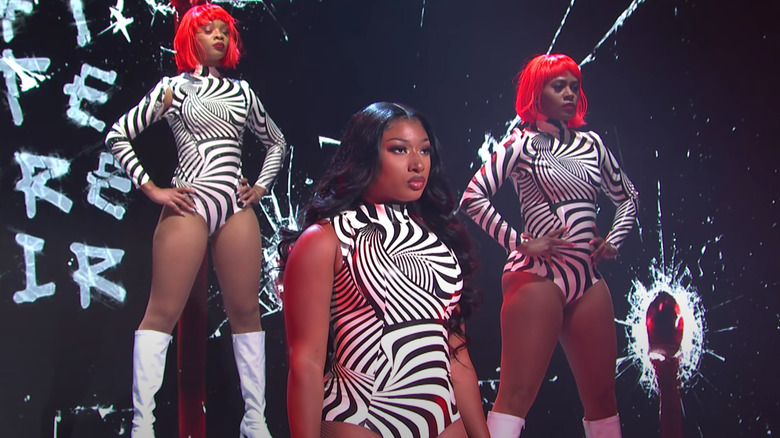 Megan Thee Stallion made a big statement about the Black Lives Matter movement on "Saturday Night Live" in October 2020 that caused some controversy, so much so she was forced to defend it. As the star performed her hit "Savage," the words "Protect Black Women" flashed across the stage backdrop, while the sounds of gunshots could be heard during the chorus and bullet holes appeared on a black screen.
Megan also incorporated audio from one of Malcolm X's speeches and words from activist Tamika Mallory, the latter of whom spoke out against Kentucky Attorney General Daniel Cameron over his handling of the Breonna Taylor case. On an episode of "Fox and Friends" (via NBC News), Cameron hit back, "The fact that someone would get on national television and make disparaging comments about me because I'm simply trying to do my job is disgusting."
Speaking about the backlash to The New York Times, Megan said she thought it was "ridiculous that some people think the simple phrase 'Protect Black women' is controversial." She added that she "anticipated some backlash" because "anyone who follows the lead of Congressman John Lewis, the late civil rights giant, and makes 'good trouble, necessary trouble,' runs the risk of being attacked by those comfortable with the status quo."
While the performance hit a nerve with some viewers, there were plenty who praised Megan for her powerful statement.
Things got messy between Megan Thee Stallion and her former pal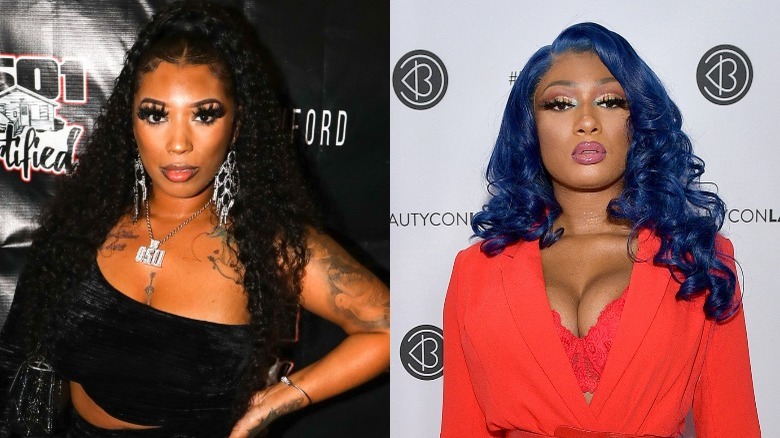 Besties? Yeah, not so much. Megan Thee Stallion and her former best friend Kelsey Nicole went from being super close to the subject of one another's diss tracks after a falling-out related to Megan's shooting incident with Tory Lanez, as noted by HITC.
Megan released "Shots Fired" in November 2020. In the song, which appears on the album "Good News," she alleges Nicole was paid off by Lanez's team in regards to the night of the shooting, which Nicole was present for. The track includes lyrics such as, "I'm a steak, you a side plate. Shrimp, stay in your place."
But Nicole wasn't about to let this slide. She hit back at her former friend with a diss track of her own called "Bussin Back." She posted the cover art, which featured several bullet holes in glass, to Instagram and made it pretty clear in her not-so-cryptic caption that she was taking aim at Megan. "Y'all talked y'all s**t, let my 'SHRIMP' ass talk my s**t too. I was built for this. No weapon formed against me shall prosper #BUSSINBACK out now," she wrote.
Megan seemingly responded on Instagram when she shared a video with her girlfriends as they stuck their middle fingers up to the camera. "GN from thee besties," she wrote.
Asian Doll and Megan Thee Stallion got into drama over a collaboration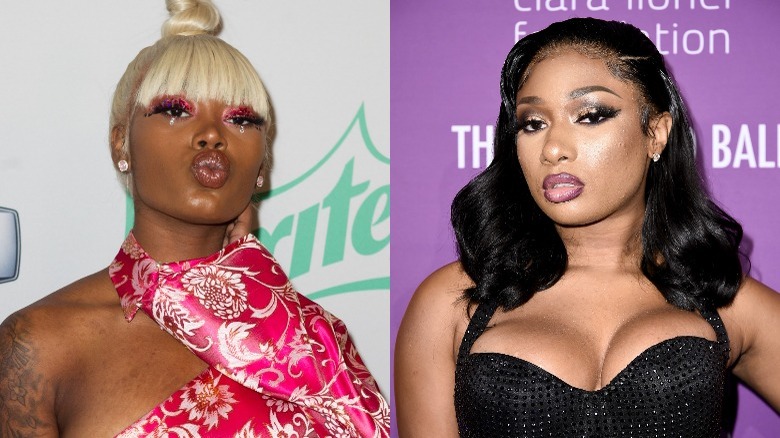 Asian Doll is another star Megan Thee Stallion had beef with. The pair's drama came to a head when Asian Doll claimed she and Megan were supposed to team up for her song "Do It On The Tip," but the final version instead featured City Girls.
Asian Doll performed the verse that was supposed to be on the track during an Instagram Live session in December 2020 and claimed it was Megan who decided not to feature her, according to Snobette. That caused a social media war between Asian Doll and City Girls, with City Girls' JT accusing Asian Doll of mentioning the collaboration to get publicity. The artists had a pretty serious back and forth across social media, where they traded insults.
Megan eventually chimed in with a series of tweets, which have since been deleted. "I hate that all of this is getting blown out of proportion. It was never as deep as the comments make it seem," she said (via Snobette). Megan also appeared to suggest she and Asian Doll were still friends (at least at that moment) and addressed why she didn't say anything sooner. She claimed she "never even saw people attacking her."
Megan also spoke directly to Asian Doll after she clapped back, writing (via Snobette), "You blow s**t out of proportion because you're a f**king hot head. You played the song live…that was that. What do I need to clear up? This is dumb."
Source: Read Full Article