"Well it looks like I have been fired for posting the whole thing thank u all for your kind texts and DMs," Teigen tweets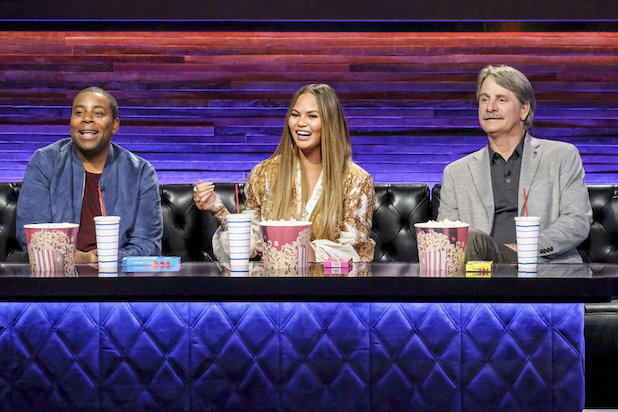 Photo by: Trae Patton/NBC
Chrissy Teigen is bringing the laughs before her new NBC show "Bring the Funny" has even premiered — by bringing you the entire first episode early.
"GUYSSSSSS! so excited to share a clip of my new show BRING THE FUNNY!! Premieres TOMORROW, 10PM after AGT on @NBC!!!!," Teigen tweeted Monday, not realizing she had not actually shared a YouTube clip from the comedy competition show, but a "FOR REVIEW ONLY" copy of the premiere episode. (The video was up for a total of 30 minutes before being pulled.)
It didn't take long for several of Teigen's followers to point out her mistake and for her to respond in classic Chrissy fashion, with comments like "Why would they SEND IT is my question!!!!!" and "why r u yelling at me :(."
She also joked that he had already lost her job judging the show alongside Kenan Thompson and Jeff Foxworthy due to the flub.
"Well it looks like I have been fired for posting the whole thing thank u all for your kind texts and DMs please send job opportunities to same number," she tweeted.
Teigen then wrote: "Anyhow if you didn't watch 30 minutes of it online watch it TOMORROW AT 10PM on @nbc!!!! I am really proud of it and the new friendships and love affairs I made!!!"
Oh, she also called out Thompson for posting a spoiler-free promo for the show, sharing his tweet and writing, "well well well look who's trying to be TEACHER'S PET doing it right and s–t."
See the mess unfold in a series of tweets below.
As Teigen said, "Bring the Funny" premieres tonight at 10/9c on NBC.
Source: Read Full Article