ARTICLE HIGHLIGHTS
Jo's life changed forever in the season 17 finale of 'Grey's Anatomy'
Amelia turned down Link's proposal, so he went to Jo for support
'Grey's Anatomy' EP reveals the best part of Jo and Link's friendship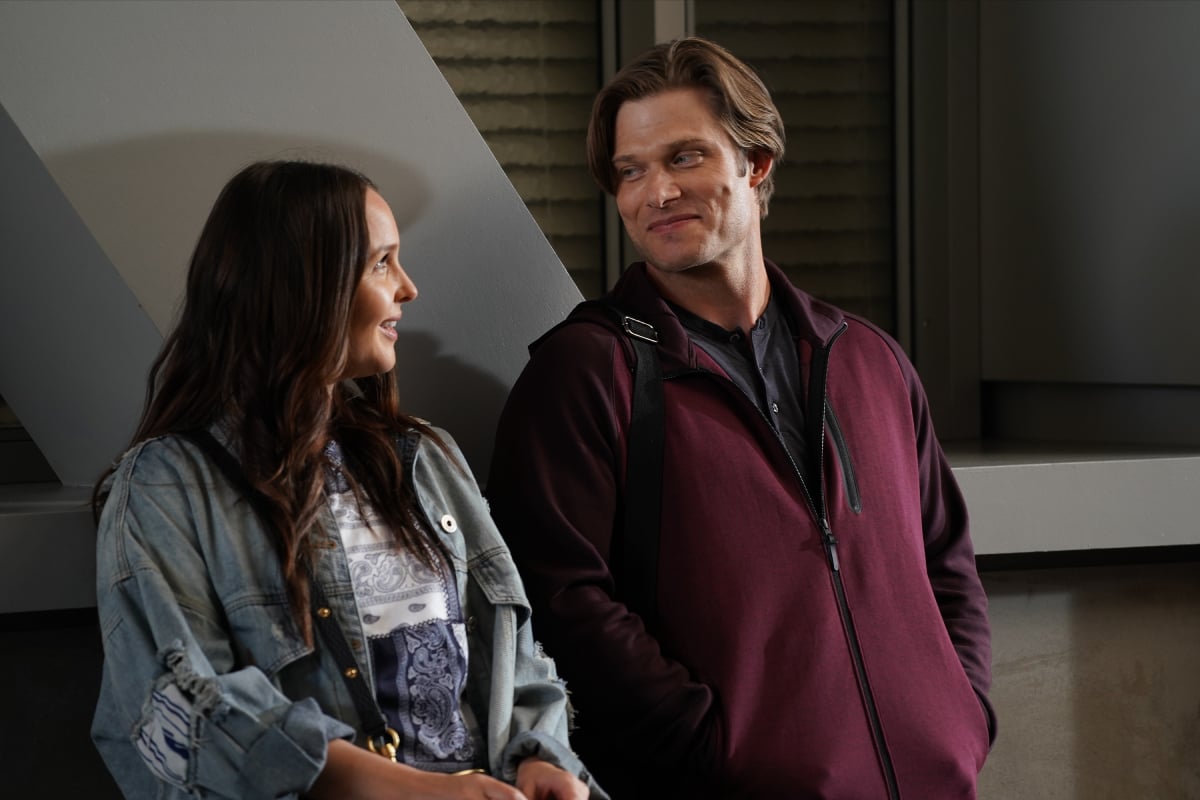 Grey's Anatomy season 18 will mark a new era for Dr. Jo Wilson (Camilla Luddington). In the wake of her husband Alex's (Justin Chambers) abrupt exit — not to mention the trauma of treating patients during the pandemic — Jo has made some major changes. 
Now, she's a single mom and an OB/GYN resident. But what about her friendship with Link (Chris Carmack)? Is it possible that the upcoming season will see Jo and Link exit the friend zone?
Jo adopted a baby in the 'Grey's Anatomy' season 17 finale
Amid the chaos of the pandemic at Grey Sloan in season 17, Jo met little baby Luna. The baby lost her mother due to complications, and Jo fell in love with the newborn while caring for her. By the end of the season, Jo decided that she wanted to adopt Luna. But her application was initially rejected.
Jo wasn't done fighting for Luna, though. The season 17 finale began in August 2020, when Jo was planning to sell her shares in Grey Sloan so she could hire a good attorney and get custody. As the finale jumped through the final months of 2020 and headed into the new year, it was revealed that Jo's plan worked.
Jackson Avery moves out, Jo Wilson moves in
As last season came to a close, fans learned that Jackson Avery (Jesse Williams) had left for Boston, and Jo had moved into his old place. She also had Luna at home with her, and that's when Link showed up.
Link and Amelia (Caterina Scorsone) had seemingly split after his failed marriage proposal. Following the rejection, Link went straight to Jo's new penthouse looking for a place to stay.
Will Jo and Link finally become more than friends in 'Grey's Anatomy' season 18?
After Amelia said no to Link's proposal "in front of three children with multiple rings on a beach," Grey's Anatomy executive producer Meg Marinis says they will not skip "any sort of conversation" about how Link feels about it.
"They're going to have to figure it out," Marinis told TV Line. "Because they still very much have love for each other. But he's also very, very hurt."
At the same time, Marinis says that Jo's new life as a single, working mom and OB/GYN resident is "mayhem." But the EP promises that Link will "definitely" be there for her every step of the way. Does this mean they will finally exit the friend zone?
She's never known a love like Luna
Marinis says that in season 18 of Grey's Anatomy they will explore "the madness of what it looks like to be a single working mom."
"She's like any new working mom — she's trying to figure it out," Marinis teases. "She doesn't want to step back from her career, but she loves this baby, and I don't think she's ever experienced love quite like what she feels toward Luna. So she's going to have to figure out a way to make it all work."
Marinis promises that "there will be comedy and heartache in this situation," and Link will be there to help. He's also the parent of a small child, but he doesn't struggle with his ability to be a dad and take care of his son.
"So it's sort of the perfect time for him to be around and help Jo, because that is a place where he's not at loose ends," Marinis explains.
'Grey's Anatomy' EP reveals the best part of Jo and Link's friendship
The executive producer says that Grey's Anatomy fans have seen Link "be there 100 percent for Jo" in the past. And in season 18, they'll see her "be that person for him." She will "be his best friend and help him through this situation" with Amelia. But, that's not a guarantee that Jo and Link's relationship will move out of the friend zone.
"They're both so focused on their children, and he is still coming out of this thing with Amelia — they haven't really even ended it," Marinis notes. "It was just that she said no to his proposal. So I think that story is not over yet. What's been so nice about that friendship [between Link and Jo] is we've never really shown the danger of there being any pressure of being more than just friends."
Marinis added that fans will learn more about their friendship from the past. And as they start season 18, fans will see them "being there for each other on both sides."
Grey's Anatomy season 18 premieres Thursday, Sept. 30 on ABC.
Source: Read Full Article