Guillermo del Toro is Hollywood's premiere authority on monsters. He's created some of cinema's most memorable creatures in original films like Pan's Labyrinth, Pacific Rim and his Oscar-winning The Shape of Water. He also brought comic book creatures from Hellboy to the screen and brought his own vampires to Blade II. Scary Stories to Tell in the Dark gives del Toro a whole book full of monsters to put on screen.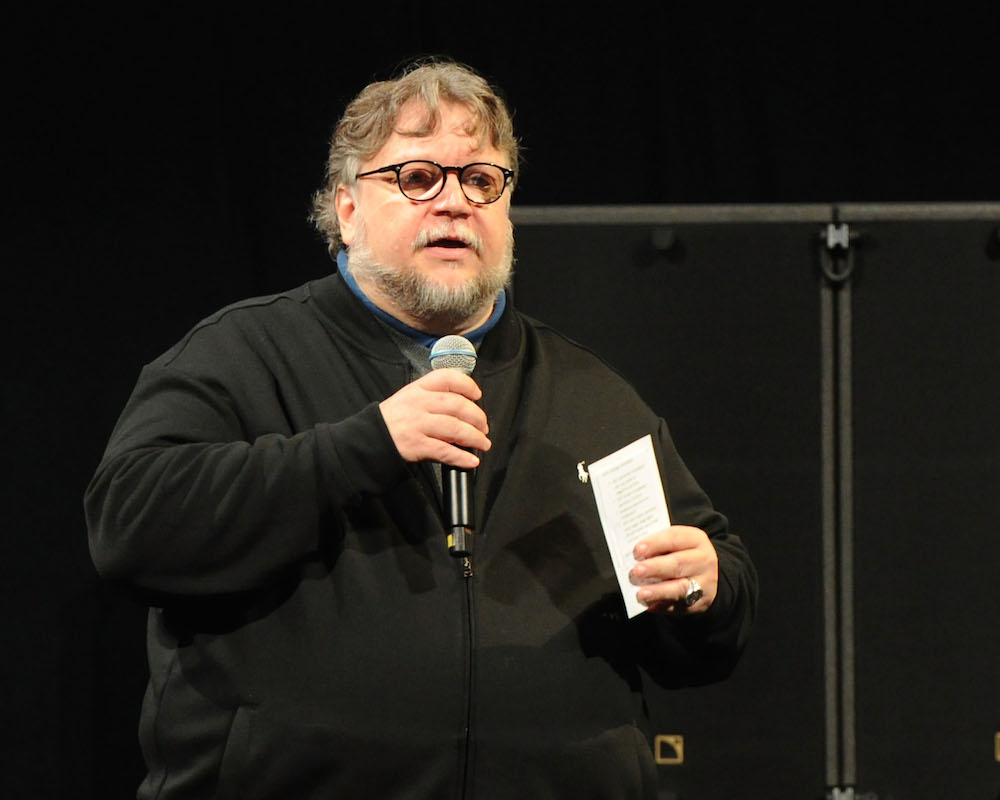 The monsters in Scary Stories to Tell in the Dark aren't his own creations though. Stephen Gammell illustrated Alvin Schwartz's books. Del Toro didn't direct the Scary Stories to Tell in the Dark movie either. He wrote the screenplay and produced it, but it's clearly dear to his heart. When he introduced the cast and director Andre Ovredal to reporters, del Toro spoke about his history with the books and the film.
Scary Stories to Tell in the Dark is in theaters August 9. Learn about Guillermo del Toro's obsession with the franchise in this Cheat Sheet for the film.
Guillermo del Toro reveals his 'Scary Stories to Tell in the Dark' habit
Guillermo del Toro was always attracted to monsters. So when he saw the book in a store, the love affair began.
"I was roaming through a book store in San Antonio, TX," del Toro shared. "I was in my early teens and I came upon this volume that had an irresistible title: Scary Stories to Tell in the Dark. The cover illustration was so creepy and I started browsing it. The illustrations got me first but Alvin Schwartz's retelling of the tales was incredibly efficient, lean and mean. It really was like having a campfire between those two covers."
Once he got a taste of Scary Stories to Tell in the Dark, del Toro couldn't read just one.
"I collected the books," del Toro said. "He had two more books over the years and it's one of those books that I kept buying to give it to friends. I would tell some of the stories to my kids and I'm sure they haven't recuperated either."
Even when del Toro became a working director, his habit for collecting outweighed his income as a filmmaker. He also went broke paying a ransom for his kidnapped father.
"Fortunately, one day I was coming from a meeting at New Line Cinema," del Toro continued. "There was a gathering back then. I think it was called Once Upon a Time and they were showing and selling the original art for the stories. At that time, I had, I think, just came out of the kidnapping of my father. I was really, really broke but I was extravagant and I bought the key illustrations from the book that I loved which led to a lot of financial trouble after that, and marital trouble."
Keeping those drawings all this time ended up paying off. They inspired the movie.
"I needed to have the key images that affected my youth," he said. "I think that the beauty of the book is that each story is self-contained but that's the nightmare of adapting it and making it into a film. So I have to come up with a concept that encompassed that theme."
Guillermo del Toro handpicked director Andre Ovredal
Knowing that he was only going to produce Scary Stories to Tell in the Dark, del Toro had to find a director who could realize his childhood obsession. Ovredal was the first and only director he considered.
"It just so happened that Andre and I had communicated when he came up with a movie called Trollhunter that I loved and then The Autopsy of Jane Doe which I was praising as much as I could to Twitter," del Toro said. "We started corresponding and I said, 'Well, he would be the ideal guy.' He was the one and only filmmaker we approached and fortunately for me, he accepted."
And del Toro let Ovredal make an Andre Ovredal film. He's only hands-on to support the director's vision.
"When I produce, I'm in the corner but the guy getting the punches is the director," del Toro said. "I'm there with the water and the mouth guard. I say, 'You're doing great, Rocky, don't worry. This turkey's not going to take you.' I'm not taking the punches. I suffer, but I don't get them."
The monster makers had to prove themselves to Guillermo del Toro too
Being as particular about monsters as del Toro, and an artist in his own right, anyone working on Scary Stories to Tell in the Dark creatures had to measure up. The actors may have had whirlwind auditions, but the creature designers had the most to prove.
"For me, sculptors are like actors," del Toro said. "So I wanted somebody that could embody the exact feeling of the sculpture and the painting and the creation of each creature. So we used several of the best creature guys in the business to render each of the drawings and bring them to life. I also think that you're much better with physical effects and digital just enhancement or accents."
It was difficult picking only six 'Scary Stories to Tell in the Dark'
By now you can tell how big a fan of Scary Stories to Tell in the Dark del Toro is. With three books of stories, how could he narrow it down to only a handful that would appear in the film?
"We did American Idol with the stories in the writers' room," del Toro said. "We were saying, 'Which are your favorites?' We distilled it to the five or six that we like the most. Some of them are told in their entirety. Some others are referenced. We basically distilled it to the ones that everybody seems to remember most. We said, 'Let's do greatest hits.'"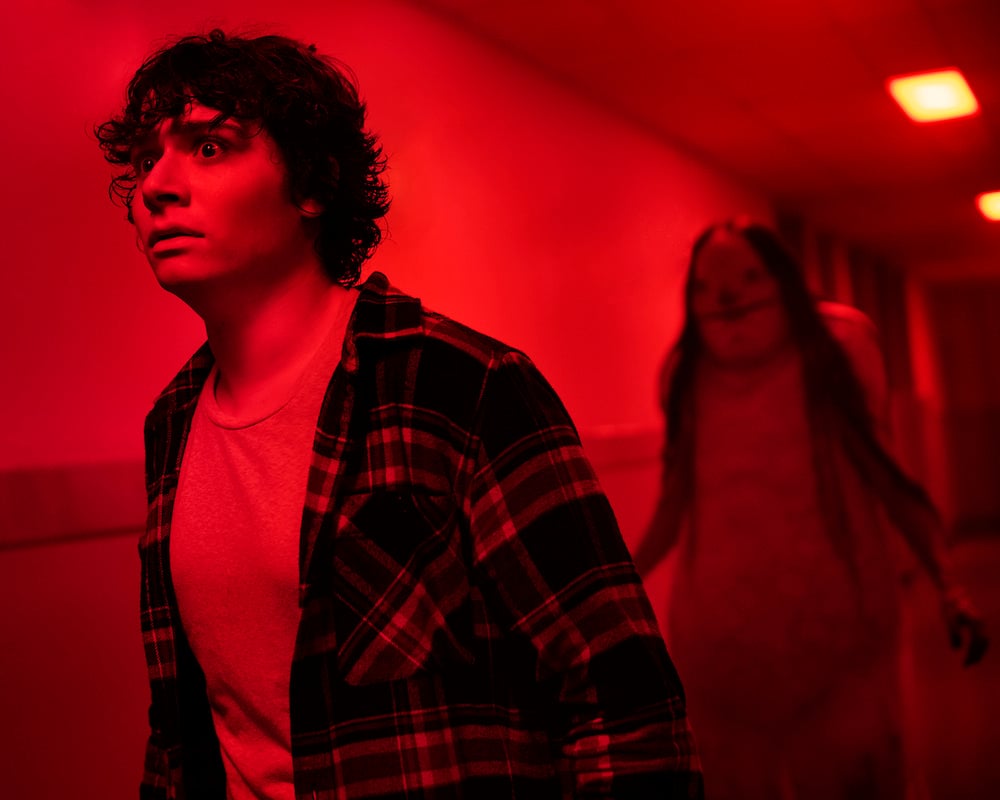 When voting out scary stories, or hopefully relegating them to a sequel, the criteria was simple.
"We looked for stories that would illuminate each of the characters," del Toro said. "Auggie (Gabriel Rush), for example, is a fastidious eater and is very worried about what goes into processed foods. He was perfect for The Big Toe. Chuck (Austin Zajur) is smothered by his mother and that informs the story. [Ruth (Natalie Ganzhorn)]'s obsessed with perfection and that informs her story which no surprise is The Red Spot. We were looking not for something that was just a scary story, but that it would be connected to character."
So, what's one of Schultz's stories that was too vague to be included in the movie?
"If you do, for example, The Hook, it's anecdotal," del Toro said. "Nothing happens. But Tommy (Austin Abrams) gets Harold, and that informs his personality. Each of the stories was in harmony with the character."
Guillermo del Toro wants kids to get scared by 'Scary Stories to Tell in the Dark'
Since del Toro discovered horror as a young child, he knows that monsters are for everyone. Some horror is so intense it has to be rated R and discovered later. The horror of Scary Stories to Tell in the Dark is for kids like he was.
"The submitted rating is PG-13," del Toro said. "The idea is the books are favorites amongst young readers and I think that there are two or three generations of parents that know the books. So it's not an unknown. They know that this is a roller coaster. It has a sense of fun. It has a throwback wholesome feeling but it's also scary. It's really a ride but there is a safety bar in it."
Source: Read Full Article