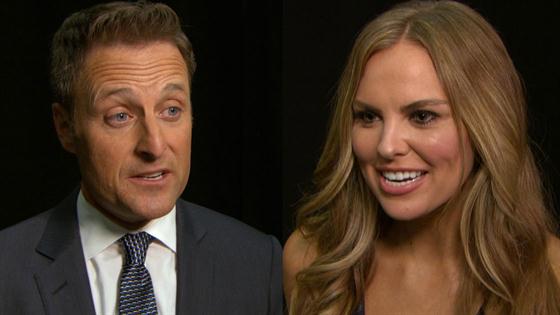 Know when to leave, dude.
Tonight's The Bachelorette: Men Tell All special was a little different than it typically is, because there was really only one man causing the majority of the drama this season, so there was mainly one man who needed to take a seat up on stage next to Chris Harrison. This was especially true after we saw the beautifully disastrous end to his time on the show last week, when he shamed Hannah for her sex life.
Then this week, in the brief but incredible bit of footage shown to us before Men Tell All, we saw that it wasn't actually the end of Luke's time on the show. The actual end was him showing back up at the rose ceremony he was not supposed to be at, demanding that Hannah let him talk. In one of the best moments, Hannah picked up the table pull of roses and moved it to be behind him.
That still didn't get the guy to leave of course, because he still needed "clarity" and didn't believe Hannah could give him up, and needed her to look him in the eyes and say that. He even had a ring in his pocket, but he never pulled it out. Finally, he left, and we saw him walk away forever.
And by "forever" we meant until the taping of Men Tell All, which he was fully present for even if it was a very, very bad time for him that accomplished very little. Somehow this man sat and endured the whole thing, including a lengthy grilling from Chris Harrison, an audience that was clearly not on his side, accusations that he's a narcissist who controls women, and a whole panel of men who basically just wanted to say "f–k you, man."
And somehow we/Chris Harrison/all the guys/the audience all sat and endured:
-Endless silences that were more terrifying than peaceful, in responses to questions like "are you a narcissist?" and "do you control women?"
-The words "let me just clarify" and "let me go back" on constant repeat
-Lines like "I felt like I was on a rescue mission for Hannah. That's how I like to look at it." (He clarified that he wanted to rescue Hannah from the other guys, as if that made it better.)
-Luke saying "If I could go back, I wouldn't change a thing." He went back and amended that statement, but it definitely came out of his mouth.
-"I want a woman that will make decisions for herself and won't need me when I'm there, although a man is supposed to lead and guide a woman in a relationship."
-"Think about what you're asking" he said in response to Chris's question about whether it was hypocritical to shame Hannah for her sex life when he's no virgin either.
-He tried to tell Hannah she told him she wouldn't use the fantasy suites for sex, while she countered that she told him the fantasy suites aren't designed just for sex.
After the Tell All taping, Chris Harrison told us that while he had an idea of where he wanted the conversation to go, but "With Luke, I really didn't know. I didn't know his mindset. He hadn't talked to us. He kind of cut us off as producers, but I respect the fact he showed up tonight to sit down and have a discussion with me."
Harrison says he was careful to make sure the talk was "a real discussion."
"I think he wanted to make it contentious. I think it would have made it easier for him, if I had taken my shots and it had escalated and everyone started yelling, that would've taken the onus off him," he says. "I'm a parent of two teenage kids, so I know better. So I stayed true and I stayed to this conversation I wanted to have, and I found it fascinating."
As for all that silence, which often followed Harrison's relatively simple questions, he says he thinks Luke was overthinking his image.
"He took a lot of pauses, took a lot of time to think," he says. "I think he was thinking too much about what he wanted to be heard saying as opposed to speaking from his heart."
So was the convo a success?
"I was hoping to get a little bit more truth out of him and his feelings, as opposed to, this is what I want to be seen as."
Hit play above for more from Hannah and Chris!
The Bachelorette will air Monday and Tuesday next week at 8 p.m. on ABC.
Source: Read Full Article