In 2019, fans everywhere were sad to see "Game of Thrones" finally come to an end. In fact, the series finale was the most-watched episode ever in HBO history, according to CNN. Actress Sophie Turner was especially saddened to see it go. "I really deeply, deeply miss it," she admitted during an interview with Elle. After appearing for nearly a decade on the iconic series, we've gotten to know the actress who plays Sansa Stark fairly well — or so we thought. There are actually a lot of things you wouldn't expect about Turner.
For example, though millions of fans around the world have loved watching her on "Game of Thrones," it's not something that this actress enjoys watching along with us. "I like to sit myself alone and watch it by myself normally," she admitted to E!. When she was only a teenager starring on the show, she would even kick her parents out of the room to watch by herself.
Turner has truly made it big since stepping off the set, and we've learned a whole lot more about her these last few years — especially after marrying a Jonas brother. This is the untold truth of Sophie Turner.
Game of Thrones was Sophie Turner's very first acting role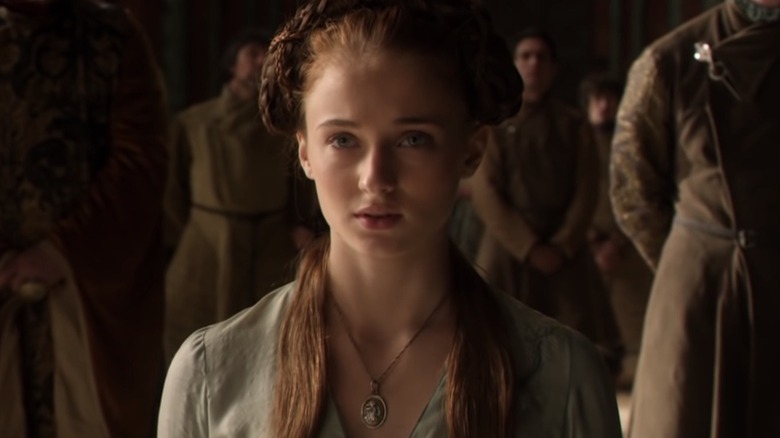 When Sophie Turner first stepped foot onto the "Game of Thrones" set, "[she remembered] being so overwhelmed and terrified," she said during a behind-the-scenes clip — and for a good reason. The worldwide phenomenon was the young actress' very first acting gig ever.
Funny enough, she even auditioned for the series as a joke. During an open casting call in the area, Turner recalled, "Me and all my friends auditioned. We just thought it was a fun, kind of jokey thing to do," she admitted during an interview with Vogue Paris. "We auditioned, and I guess I just got callback after callback after callback." When she made it in the top seven actresses, Turner decided she should probably tell her parents what was going on. After all, she was only 13 years old.
From there, the series catapulted Turner into complete stardom. She's now worth $8 million, according to Celebrity Net Worth.
Sophie Turner is a twin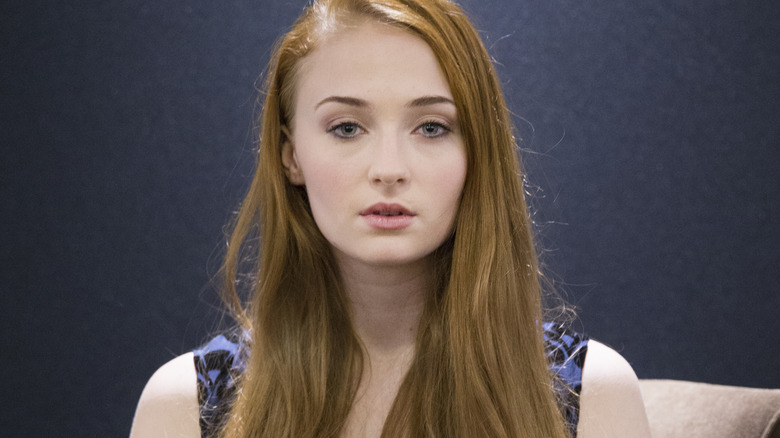 Few fans probably know that Sophie Turner is a twin. Yet, there's a reason that no one has ever seen her with her sibling. "Before I was born, I lost my twin," she admitted during an interview with Coming Soon, and this has even influenced the type of work she has decided to take on as an actress.
After wrapping up on her third season of "Game of Thrones" in 2013, Turner took on a role in a thriller all about twins. "Another Me" follows the story of a girl who starts to see someone that looks a lot like her. "I think I've always had a fascination for telepathy or the way that twins act and react with each other," Turner said. "I think I'm just subconsciously drawn to those projects."
In fact, Turner even credits her twin for helping her get into character for her other projects. "I always felt as though I needed someone or should have had someone there," she admitted to U.K. publication, You (via Hollywood.com). "I guess there's a sense of loss there that I have used to conjure emotions onscreen."
Sophie Turner loves watching reality TV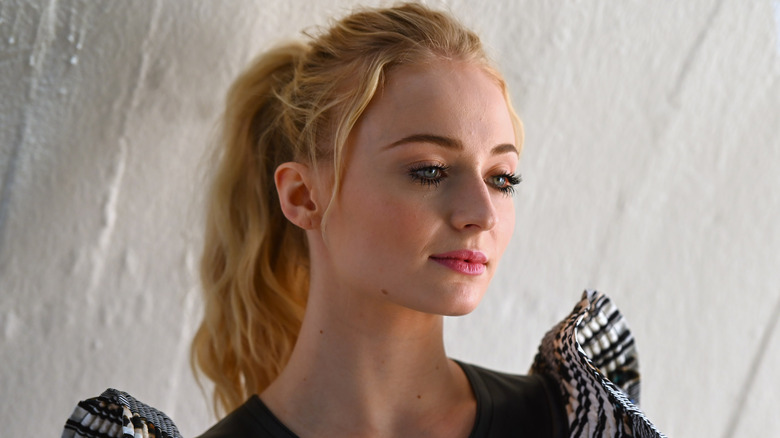 For someone who's known for starring on some pretty serious scripted stuff, Sophie Turner actually considers herself quite a reality TV junkie. When asked what she loves to watch on her days off — does she actually have any? — none of them bear any similarities to her own series, "Game of Thrones." "'90 Day Fiancé' is amazing, because I'm basically one of them," she told Elle. However, chasing after bad guys seems to be her thing, too. "I love 'Cops,'" she added.
While we've been busy trying to keep up with Turner's successful career over the years, she's also loved watching "Keeping Up with the Kardashians." In fact, these reality stars were the first people that came to mind when she was asked who she'd love to star alongside in "Game of Thrones." "I think it would be a very interesting crossover," she told The Wrap.
Surprisingly, Sophie Turner used to hate the Jonas Brothers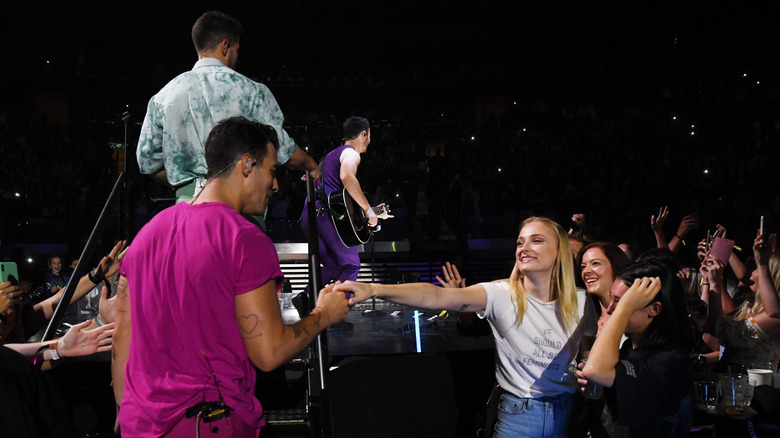 Before she began dating Joe Jonas, Sophie Turner surprisingly wasn't a big fan of his family. Growing up, "my friends and I were not Jonas Brothers fans," she admitted to Elle, and there's a very specific reason why. "We liked Busted," she explained.
In 2002, a British band called Busted had written a hit song called "Year 3000." "It was amazing," Turner gushed. When American band the Jonas Brothers decided to cover it four years later, it quickly became an international success — much more than her favorite band's rendition of it. When Busted officially broke up in 2005, "it was all the Jonas Brothers' fault," she explained. "So we hated them." (For the record, Busted broke up one year before the Jonas Brothers ever covered the iconic song.)
Turner is obviously on good terms with the trio now. In fact, in 2019, the brothers brought Busted onstage to reunite with them for a rendition of "Year 3000," and we're sure Turner was freaking out behind the scenes.
Sophie Turner has an Instagram account dedicated to reviewing sausages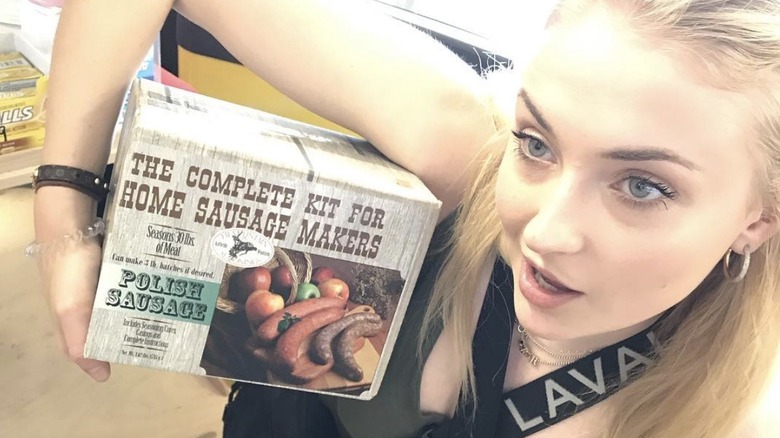 As Sophie Turner travels the world, there's something she loves to post about aside from the beautiful scenery and famous people she's with. She loves to tell the world about all the sausages she's eaten. "I love sausages. Like, I eat sausage all the time," she even told Elle UK, adding, "Tell the world!" Yet, it's something she decided to do herself when she started her own Instagram account dedicated to reviewing sausages for us all to read. Yes, you heard that right.
More than 30,000 fans have followed her journey as she eats her favorite food and ranks each one out of 10. Though she hasn't shared any of her sausage thoughts on the site since 2018, her social media presence is something that should be taken seriously. "I auditioned for a project and it was between me and another girl who is a far better actress than I am, far better," she explained during an interview with Porter (via Marie Claire). "But I had the followers, so I got the job." "And that's the tea," as Turner would so famously say.
Sophie Turner really is BFFs with Maisie Williams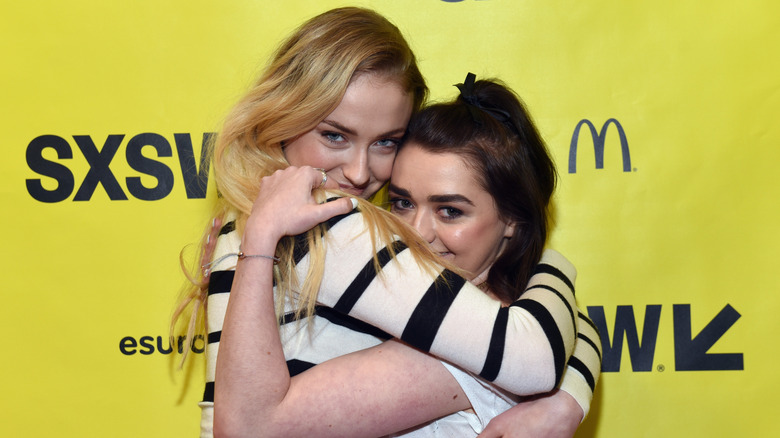 Though Sophie Turner and Maisie Williams aren't sisters in real life — unlike their iconic "Game of Thrones" characters — they're still pretty close. "She and I have a very, like, intense friendship," Turner explained in a video for Vogue Paris. "A friendship that I haven't had without any of my other girlfriends before."
The two — commonly referred to as "Mophie" — met during a chemistry read before they ever stepped foot on set, and their connection was instantaneous. "We were pretty much best friends from that second on," Turner told Rolling Stone. As the series escalated these two into stardom, they navigated the entertainment industry together, and from then on out, they spent practically every day together. In fact, Williams was set to be the maid of honor in Turner's wedding to Joe Jonas (via ET) but was replaced by sister-in-law Priyanka Chopra when Jonas and Turner decided to elope and get married in Las Vegas.
Though these two have chemistry off-screen, producers were always hesitant to ever place them on-screen together. "We're a nightmare to work with," Turner admitted. "If you're working with your best friend, you will never get any work done, ever. Anytime we tried to be serious about anything, it's just the hardest thing in the world. I think they really regretted putting us in scenes together. It was difficult."
Sophie Turner has a lot of tattoos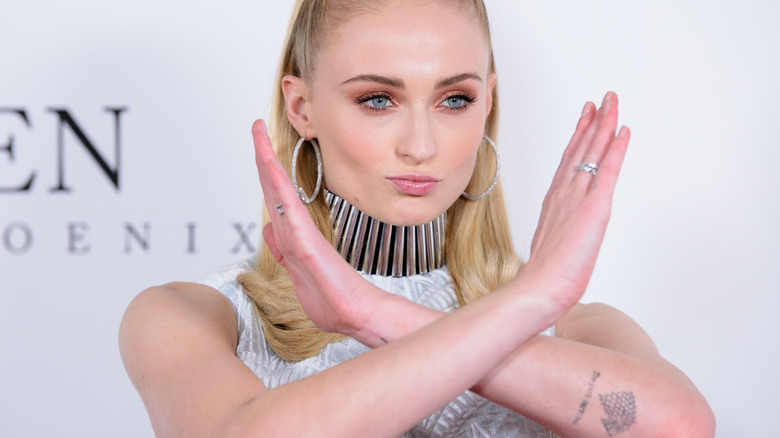 Over the years, Sophie Turner has accumulated quite an impressive collection of tattoos on her body. As of today, she has at least 15, but fans aren't easily able to see most of them thanks to her mother. "I had a deal with my mum," she explained to Refinery29. "I wanted a tattoo on my forearm and she said, 'If you want one, it has to be somewhere I can't see. It has to be discreet.'" However, when Turner and her BFF Maisie Williams got matching ones, it made its debut on her forearm — but in peach ink to make her mother happy.
Since making that deal with her mother, she also has matching ink with her other half — Joe Jonas. In 2018, they had the famous Disney phrase "to infinity and beyond" tattooed across their wrists. The following year, they got matching images in memory of her puppy Waldo Picasso on their arms.
In addition to those, many of Turner's other tattoos are dedicated to special people in her life — like her brothers and her grandfather. She also has tattoos dedicated to the roles she's played onscreen.
Sophie Turner's biggest fear is a very unique one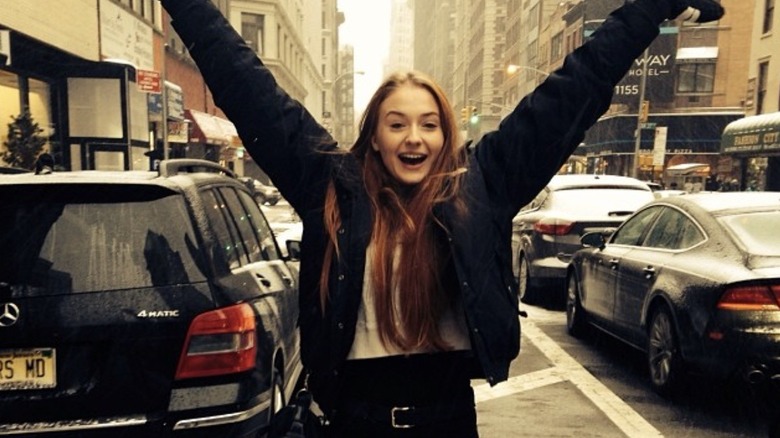 While many of us are afraid of spiders, snakes, and small spaces, Sophie Turner has an entirely different fear — walking over sewer drains.
If you think about it, it does make sense. The clown from "It" has had us all doing a double-take, too, after we saw the film return to theaters in 2017. However, this fear is one that Turner has had since she was a kid. She has an interesting way that she copes with it, too. "I was told when I was very young that you have to say 'onions' to reverse the curse," she explained on an episode of "Jimmy Kimmel Live." "Now, I truly can't walk over a drain without freaking out and having to say 'onions' over and over." It's still not clear how she would be cursed or where this superstitious story was derived from. However, just to be safe, we'll start saying "onions," too.
Sophie Turner is a Belieber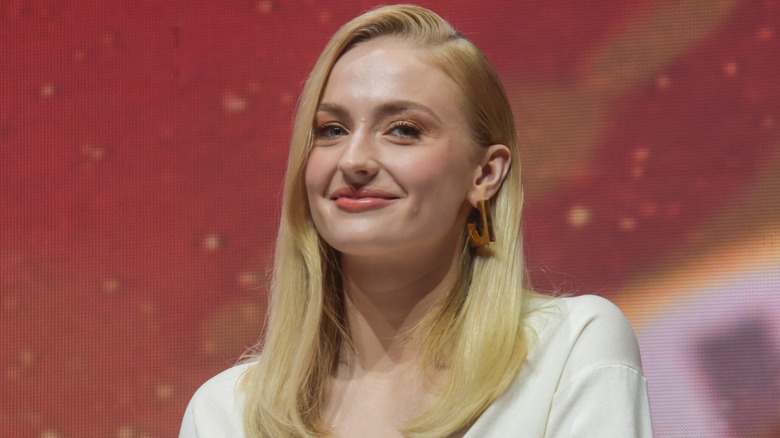 Before Sophie Turner fell in love with Joe Jonas, she had a crush on another musician — Justin Bieber. "I mean, he's just so handsome and he's got such a good voice!" She once gushed to Marie Claire. As it turns out, growing up, her walls were covered with posters of him, too.
Practically everyone around her has found out about Turner's celebrity crush, too. Whenever she had to act out romantic scenes on "Game of Thrones," the showrunners came up with a great way to help get her into character. "David and Dan always told me, 'Look at Joffrey as if he's Justin Bieber and imagine that life,'" Turner admitted to Rolling Stone. "That's the trick — how to get Sophie to act!"
Lucky for this leading lady, she has even had the chance to meet Bieber himself. During a trip to Miami, he ended up being at the same house party she was at with her husband Joe Jonas. "I played it cool [when I met him], and then ran into the closet and cried for, like, five minutes," she admitted on "The Late Late Show with James Corden," adding, "And Joe has never let me live it down since."
Sophie Turner met her husband on Instagram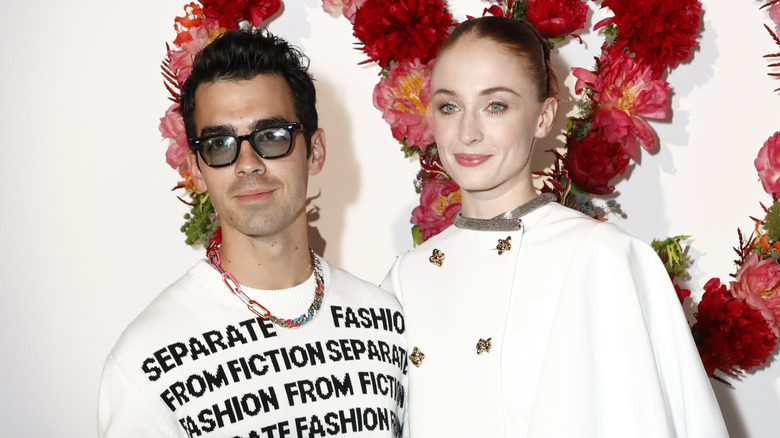 Out of all the places you could meet your husband, it only makes sense in this day and age that Sophie Turner met hers online. Joe Jonas slid into her DMs on Instagram after his agent suggested they should meet. However, Turner was surprisingly hesitant to hang out with him. "I brought all my guy friends to come with me to meet him, because in the back of my mind I still worried that he could be a catfish," she admitted to Elle. Luckily, when she showed up to the bar, there stood the actual Jonas Brother himself.
After spending some time with him, Turner realized he was nothing like she had expected. "We talked for hours, and hours, and hours. And I was, like, not bored. It wasn't contrived. It wasn't small talk — it was just so easy," she said. "And soon we were, like, inseparable. I went on tour with him," and they got engaged a year later.
The two eventually tied the knot twice in 2019 — once at a small chapel in Las Vegas before hosting a huge formal affair in France.
Sophie Turner has been in a Bastille music video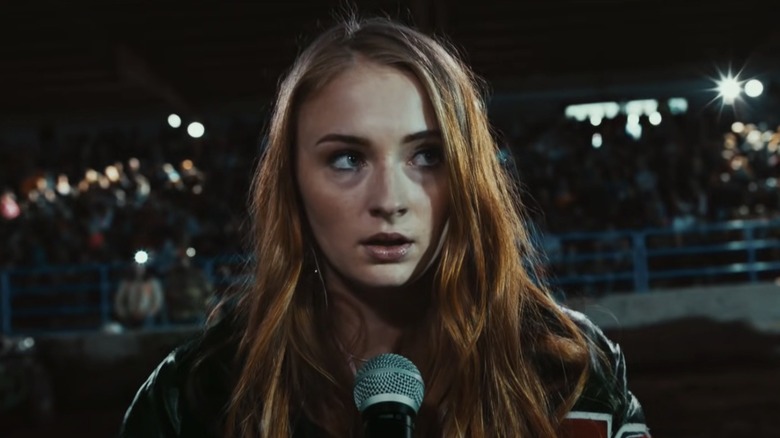 When it comes to acting, Sophie Turner doesn't draw the line at television shows and movies. In the midst of shooting "Game of Thrones" in 2014, she appeared in one of Bastille's music videos.
"Oblivion" showed the young actress in a completely different light. Aside from the video being set in modern times, Turner can be seen acting as if she really is singing the song herself. Though she won't be releasing an album herself anytime soon, she actually likes to rap off-screen. "I spit pure fire," she even said on "The Late Late Show with James Corden."
Turner has since appeared in a few of her husband's music videos, including the Jonas Brothers' "Sucker" and "What a Man Gotta Do" where she gets to show off her serious skills on the dance floor. Here's to hoping she'll be releasing her own rap music video someday soon.
Sophie Turner isn't a natural redhead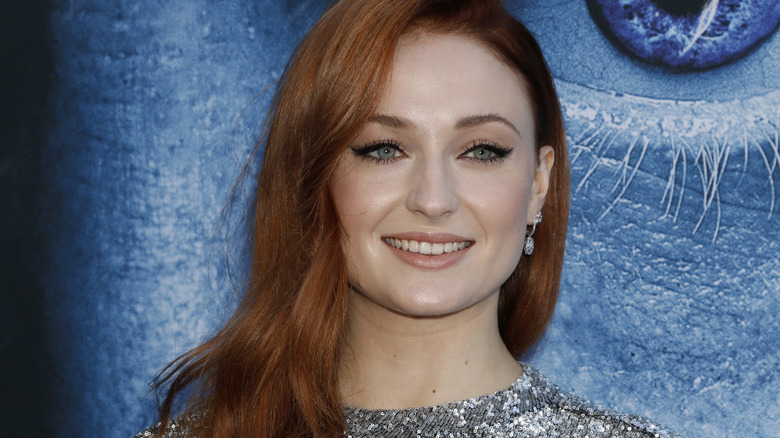 Many people easily confuse Sophie Turner with Sansa Stark, and it's understandable. Yet, many of them would be surprised to know that this actress isn't actually a redhead. "I'm naturally blonde," she admitted to Marie Claire.
Every single week, Turner was required to dye her hair a fiery red for her character on "Game of Thrones." Eventually, she had to wear a wig in season seven, because she had dyed her hair so often, she revealed to Elle.
Since going back to her blonde roots — pun intended — Turner has had a lot of fans commenting on her natural color. "People don't seem to like me blonde," she explained to Harper's Bazaar. "Maybe I look too much like an Instagram influencer." However, her new 'do seems like the perfect change for her new phase in life as a wife. "There are elements of dating a Jonas brother that mean you get photographed a lot, and so when people see me blonde, maybe they associate me with that rather than the characters I play," she said. "So they change up the hair."
Sophie Turner won't post photos of her daughter online for a specific reason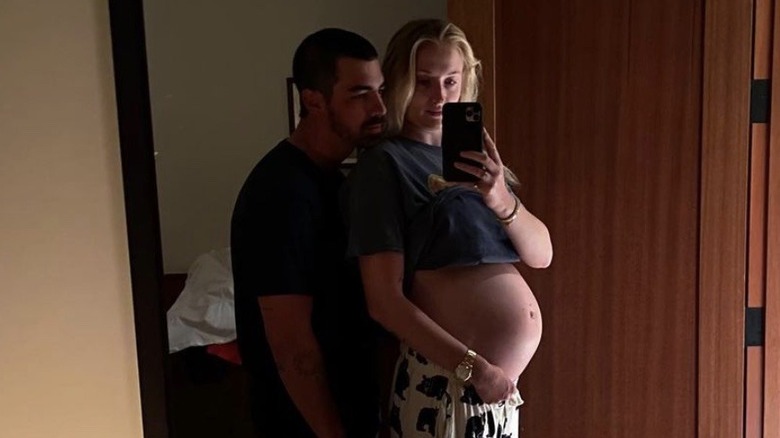 Throughout her pregnancy, Sophie Turner kept things pretty low-key. In fact, she and Joe Jonas never officially announced they were expecting until their daughter Willa was born on July 22, 2020.
Two months after her daughter's birth, Turner finally shared photos of herself pregnant for the first time on Instagram. However, fans have never had the chance to catch a glimpse of Willa's face — until she was 10 months old. In early 2021, Turner and her daughter were followed by paparazzi. Hours later, Page Six posted photos of the infant's face online. "I guess yesterday some paparazzi managed to get a picture of my daughter," Turner said in an Instagram story that has since been deleted (via E!). "And I and I just want to say that the reason that I am not posting pictures of my daughter and making sure that we can avoid paparazzi at all costs is because I explicitly do not want those photos out there."
While we all know Willa's name and her famous family, there's a specific reason that the Jonases don't want us to catch a glimpse of their baby girl. "She did not ask for this life, to be photographed," Turner explained, pleading with the media to stop posting photos of her.
Sophie Turner adopted her dog from the set of Game of Thrones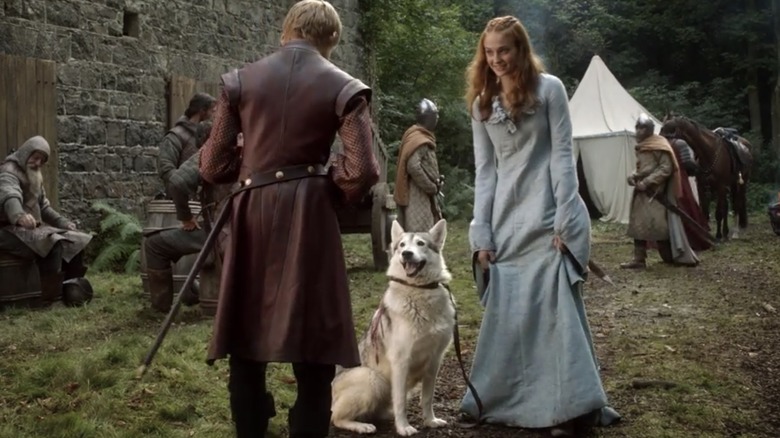 Just like the inseparable bond that Sansa Stark and her direwolf Lady had, Sophie Turner had the same connection with that same dog in real life. In fact, when the canine character was killed off in the second episode of the series, the young actress adopted her straight from the set.
Funny enough, there's a reason why this animal actor named Zunni was let go after only two episodes. "Zunni was a terrible actor, really bad on set," Turner explained to Harper's Bazaar. "She wouldn't respond to any of my calls and everyone was ready to fire her, so we took her on when I was 14." She was the actress' very first dog and lived alongside the Turner family until she passed away at age 11.
Today, Turner has three dogs that live with her and her husband – an Alaskan Klee Kai named Porky Basquiat, a Golden Retriever named Penelope, and a Corgi whose name has not yet been revealed, according to PopSugar.
Source: Read Full Article